Infinio is launching a new content where you could be the big winner of a free full pass to VMworld 2014.
Just register to the Infinio content at this link! Deadline to enter is Monday, July 21st @ midnight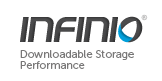 Register now and you'll be entered to win:
One full-conference pass to VMworld 2014 in San Francisco
(the conference pass includes access to the VMworld party and Hall Crawl events)
Access to the VMunderground party
Cool Infinio swag
Other great stuff!