This post is also available in: Italian
Reading Time:
3
minutes
As written in the previous post, vSphere 5 is not compatible with the View versions prior the 5.0. So to upgrade a vSphere environment from 4.x to 5.0, that also include a View 4.5 or 4.6 implementation, a good approach is first update View to version 5.0 (that it is compatible with vSphere 4.0 Update 3 and vSphere 4.1 Update 1).
The upgrade procedure is well described in the VMware View Upgrade Guide, that include also the "VMware View Component Compatibility Matrix" useful to define the order of the components upgrade: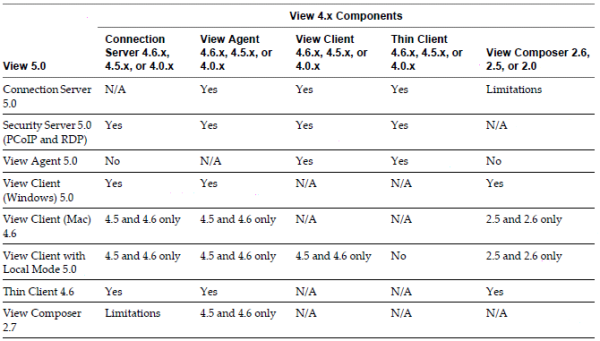 From the previous table is simple notice that the View Connection Server is compatible with the previous versions of other components… So it becomes the first candidate (with the Security Server and also the Transfer Server) for the first upgrade phases. If the servers are already based on Windows Server 2008 R2 a good solution could be a simple in-place upgrade (just verify if the servers still met the memory requirements).
Please notice that the upgrade of the Connection Server (or servers, if you have a more of them) has a downtime related to the new license key (v5 license are different from previous) and the stop and start of the services. With a good planning this downtime can be keep under the 15 minutes. For the Security Server there aren't specific consideration. For the Transfer Server I suggest to first make a complete check-in of all desktops in local mode.
The next step is the upgrade of the Composer part (during this and also the previous phase, I suggest to stop the pool provisioning). In case you get "corrupted" pools there are specific command described in the VMware KB to clean both the Composer and the Connection Server database.
Remember also to import, on the AD Domain Controllers, the new GPO templates  (available on the View Connection Server), especially the new Persona Management.
Now is possible upgrade the vSphere part and also the VM part (both the View Agent and the VMware Tools)… for some features (like Windows 7 3D rendering) also an upgrade of the virtual hardware to v8 is required.  But remember that checking out a View desktop that uses virtual hardware version 8 is not supported: if you use vSphere 5 to create virtual machines that will be sources for local mode desktops, be sure to create virtual machines that use virtual hardware version 7.
Note that VMware Tools must be upgrade before the virtual hardware upgrade and some users report some issues if VMware Tools are upgraded after the View Agent (but I've not got any issue, so I can't confirm).
Finally the View Client can be upgraded on all the clients, but you can still use old version without issues and without loosing features (for example the Security Server still works with View Client 4.5).