This post is also available in: Italian
Reading Time:
2
minutes
There is an performance monitor at VM level that show always a null value: it's the VM Power Graph. The same monitor at host level show the power usage of the specific host.
But by default, the power usage of the VMs are not calculated. To enable this experimental feature you must change an advanced parameter (Power.ChargeVMs) on each host (by default, as show in the picture, is zero… it must be changed to 1):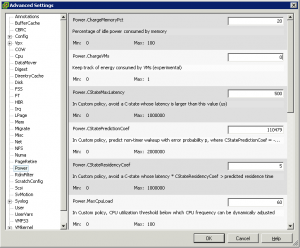 After this operation the performance graph will start to show the value of VM power consumption (I supposed based on memory and CPU usage):

How those value can be used? Of course in a charge-back (or at least show-back) model… But to be honest those value do not consider the storage consumption (at least with shared storage is not so easy gain this information) and other devices so maybe must be used not as a absolute value but as a percent of the total power consumption.