This post is also available in: Italian
Reading Time:
4
minutes
PHD Virtual Monitor is a comprehensive virtualization monitoring solution that gives you complete visibility across your entire virtual IT infrastructure at all levels including virtual, physical and application. So it not only a multi-hypervisors monitor tool (as described in the previous post), but also a multi-environments tool.
This could be really interesting with Citrix XenServer environments where the monitoring feature are quite minimal (and without simple notification in the free edition): CPU and Memory, both for hosts and VMs; and from latest version also networking and disks (but disk only for VMs). Also the graphs are quite limited and basic: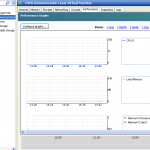 But also can be useful for small ESXi environment, where maybe a vCenter has not been deployed.
With PHD solution you can monitor, in a agent-less way, XenServer (documents talk about v5, but works fine also with v6) and vSphere (also v5) environments, and is probably the first solution for Citrix hypervisor (previous was possible build custom solutions but with more effort). It works as a client-server web-oriented service and require a Windows machine to run on it (on the server part, and I've tested on a simple XP machine) and a database for store the data (the SQL Express is the default). Maye a virtual appliance version could be more interesing (but of course this products is not limited only to virtual environments). For the client part a browser could be enough (it works well also on a old Microsoft Internet Explorer 6), but a plugin could be needed to add some specific function.
To add a virtual infrastructure, just use and follow the wizard in the home page:
At this point just add your hosts to the licensed hosts and now you can monitor (without any need to deploy agents on hosts and/or VMs) also your virtual environment, inclued hosts, VMs and also the storages (at least for space and other metrics). Of course, for the rest of physical environment an agent is still required.
In this example you will see the result of one XenServer host, one VM and one physical machine:
Of course there are some limits in the agent-less approach… for example there is no hardware of asset detail for hosts and VMs. Maybe with SNMP, WMI or vendor specific API more information can be added.
But the interesting use of this multi-platform tools is when all the elements of your environment are monitored in a single pane. PHD Virtual Monitor can monitor several object, but for some of them more work may be needed to adapt API or scripts.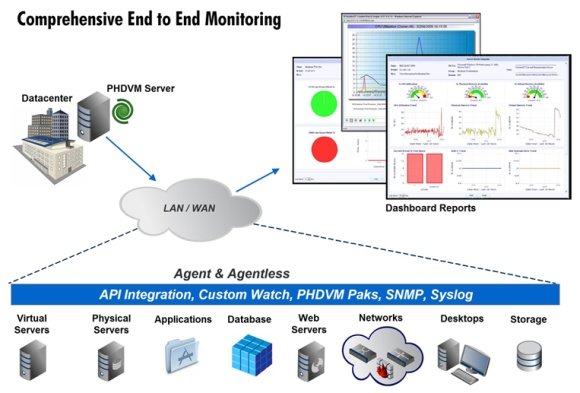 For more information see also: