This post is also available in: Italian
Reading Time:
2
minutes
Last week VMware release a complete update of the entire cloud platform, including the new vSphere 5.0 Update 1.
But, compared with the 5.0 version, the new vCenter Server 5.0 U1 has a new feature (of bug, depending of the point of view) that now disable the VM Startup & Shutdown properties for all the host (also old version) in a VMware cluster: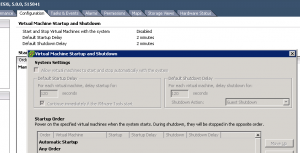 I write that it is more probably a feature to strictly apply the recommendation of the VMware in the vSphere Avalability Guide (note that was present also on previous vSphere 4.x versions):
The Virtual Machine Startup and Shutdown (automatic startup) feature is disabled for all virtual machines residing on hosts that are in (or moved into) a vSphere HA cluster. Automatic startup is not supported when used with vSphere HA.
With previous version was possible to manually edit this settings, but now is no more possible (until you use the vSphere Client directly on each host).
Seems also that Autostart / Stop doesn't work anymore in build 623860 of the free licensed hosts. The feature is still working on hosts in evaluation mode and with purchased licences. In this case seems just a bug. See also the post in the VMware Community.
The bug has been solved with the patch released on Jun, 12 (Clarification on The Auto Start Issues in vSphere 5.0 Update 1.).