This post is also available in: Italian
Reading Time:
3
minutes
In the new vSphere 5.1, there is a missing component replaced by a new one: VMware Data Recovery (VDR) has been replaced by the new VMware vSphere Data Protection (VDP).
VDR was a backup solution introduced with vSphere 4.0 and based on the VMware vSphere API for Data Protection (VADP) which includes the Changed Block Tracking (CBT) technology (to have incremental backup). But was a limited product (especially not suitable to scale to with several VMs) and also the 2.0 version introduced in vSphere 5.0 was not so changed too much (except in a little better stability).
The new VDP is a robust, simple-to-deploy, agent-less, disk-based backup and recovery solution that use EMC Avamar variable-length segment de-duplication engine to optimize backup and recovery times. VDP is fully integrated with VMware vCenter Server and the new Web Client (instead of VDR that use a plugin only client side).
Some features are the same of VDR, included the File Lever Restore options. Others specific for this products are:
De-duplication occurs not only within each VM, but across all backups jobs and all VMs being backed up by the VDP appliance (but I'm quite sure that was the same also for VDR).
For the management (client) station a browser (IE 7, 8 on Windows, Firefox 3.6 and higher on Windows or Linux) with Adobe Flash is required. Not other software is required to handle VDP. Also the file-level restore user interface (UI) is web based, simple, and intuitive meaning end-users can perform self-service file-level restores (administrator permissions required).
Deployment, configuration and management of VDP is done via a web browser based graphical user interface (GUI). The majority of configuration tasks are completed using intuitive wizard-driven workflows.
Scheduling options are more complete now and not only weekly, but also daily and monthly.
Also retention policies are now more clear and simple.
Checkpoint are defined to help in disaster recovery of VDP.
The architecture is excatly the same of the old VDR: it works in a virtual appliance and it use a destination based on vmdk as a de-duplication store (note that the size of them could not be changed!).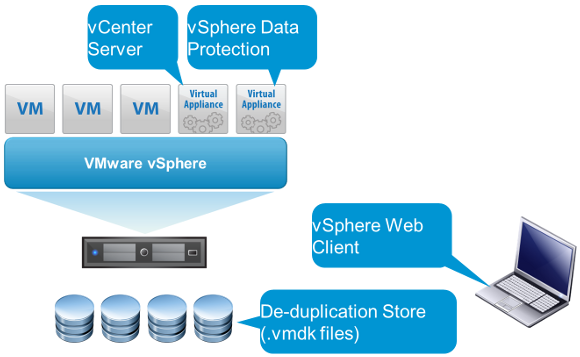 The appliance is deployed by default with
4 vCPUs
4 GB RAM
Available in three sizes: .5 TB, 1 TB, and 2 TB – these are usable destination datastore sizes
Guest OS SuSE Linux 11
Note that vCenter Server 5.1 is required to use VDP but it can backup VMs on hosts running vSphere 4.0 and higher.
Could this product become popular (or at least useful) in backup segment? And, if yes, what will be the possible impact in the virtualization ecosystem?