This post is also available in: Italian
Reading Time:
2
minutes
My briefing with APTARE, during the last Powering the cloud event, was with Nigel Houghton (Regional director of sales EMEA).
APTARE is the leading independent provider of enterprise data center optimization software that helps companies maximize their storage environment, reduce TCO (total cost of ownership) and ensure that their critical data is protected.
The company has a long history because was founded in 1993 by a team of enlightened computer software engineers that focused on designing and delivering transactional database systems that were massively scalable in two dimensions: capacity and performance.
The headquarter is in Campbell, California, but they have also an EMEA office in London.
In 2002, while working on a professional services contract, the APTARE team recognized the need to provide advanced reporting on enterprise backup environments and developed and brought to market its first storage resource reporting product: APTARE StorageConsole® Backup Manager.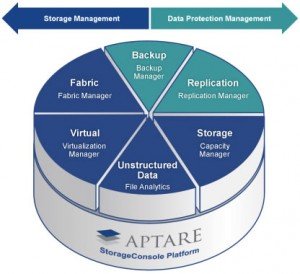 APTARE StorageConsole is now a suite that provides detailed reporting, monitoring and alerting on all aspects of storage: physical, virtual, SAN/NAS, unstructured and backup. Businesses worldwide rely on the APTARE StorageConsole product suite to improve their storage management efficiency, increase utilization and reduce costs.
It's a powerful reporting software that can provide detail on:
The Data Collector is completely agent-less, and can use different tools and protocols to gain the data. The used topology is an Hub & Spoke, with the central point that is the Portal.
The portal works with an Oracle database (but included with the product). Also note that the Portal is already multi-tenant: each customer is a "domain" and each "domain" could have a different login and different data visibility.
The suite can analyze the infrastructure, the performance, the services, also the configuration in deep (included, for example, the multi-path on a SAN). If can also go really deep on some data, for example, in the DBMS part it can show how much data are really used and give more detail on data allocation.
There are also some specific functions for showback, chargeback and capacity forecast.
See also: full report list of Powering The Cloud 2012 event.