This post is also available in: Italian
Reading Time:
3
minutes
My briefing with Quantum, during the last Powering the cloud event, was with Stéphane Estevez (Sr. Product Marketing Manager EMEA/APAC).
Quantum is one of the global expert in data protection and big data management solutions. Since 1980, they've been focused on helping IT departments address data protection and big data challenges with innovative solutions and world-class service and support. Quantum sells its branded products through a distribution network that includes more than 20 distributors and 5,000 resellers worldwide. Quantum also sells its products through leading OEMs such as Dell, EMC, Fujitsu, HP, IBM and NetApp, as well as tape automation suppliers and tape media partners.
But they don't sell only hardware solution, but also some software solutions related to data protection. We have discuss about:
Quantum vmPRO: Quantum's backup software for virtual environments
Q-Cloud: Quantum's new BaaS and DRaaS
Quantum vmPRO is a virtual applicance designed to protect the VMs (in a agent-less way). It uses the VMware API and, of course, the CBT. Interesting is that the format used to store the data is the vmdk native, so restore and portability are quite easy.
Other features are a rapid restore (easily restore virtual data in seconds), instantly boot VMs from DR site or the cloud, simple integration with existing backup.

Also there is a deduplication module (DXi)  that works in-line and can provide a rate up to 95%.
The vmPRO version 3.0 is available in two different editions:
vmPRO Standard Edition (free and can protect up to 1TB)
vmPRO Enterprise Edition (with a pricing of $699 per TB)
Q-Cloud is a new Quantum-branded backup-as-a-service (BaaS) and DR-as-aservice (DRaaS) subscription offering, available both for North America and EMEA.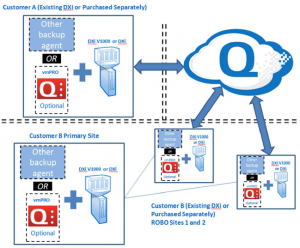 It's scalable from 1TB to 1PB of protected data with a small price around 1 Cent/GB/Month (assumes an average deduplication ratio of 15:1).
It works with existing backup solution, but also it works with Quantum vmPRO and the appliances DXi-Series Deduplication Storage Platform (like the virtual appliance V1000).
Q-Cloud is just a target of a backup policy, and can protect single site with enterprises needing backup & DR protection as also Multi-site Enterprises using edge-to-core data protection. It is also a DR solution, because the VM could be turned on!
We have also talk about the new standard LTFS that can extend and add NAS features to a tape and a library. Quantum is working hard on it and their solution (Scalar LTFS) is able to "virtualize" all tape based product from Quantum (and not only).
See also: full report list of Powering The Cloud 2012 event.