This post is also available in: Italian
Reading Time:
2
minutes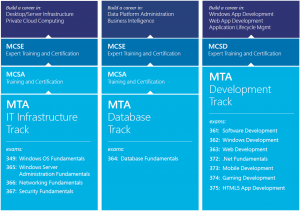 Microsoft has introduced a new certification level in the new certifications portfolio.
Microsoft Technology Associate (MTA) is a recommended entry point into IT certification and job preparation. Pass just one exam and you'll earn a certification, taking your first step toward a career in technology. If you are just starting your IT career path or are looking to enhance your understanding of IT fundamentals, MTA will validate your core knowledge. MTA is an optional industry-recognized certification for those pursuing a career path in IT infrastructure, database design, or software development using Microsoft technologies.
You can earn an MTA certification by taking an exam in one of the following tracks, depending on your interests and career goals.
MTA IT infrastructure track—for those intending to build a career in desktop or server infrastructure or private cloud computing:
MTA database track—for those intending to build a career in data platform administration or business intelligence:
MTA development track—for those intending to build a career as a software developer, this track helps prepare you for hands-on product training and MCSD certification.
Note that actually there isn't a specific track for virtualization and is not clear if a Virtualization Fundamentals will be introduced or not.
Note also that now there are two different "associate" level: the new MTA and the Microsoft Certified Solutions Associate (MCSA). Wasn't a better solution use the Administrator term for the MCSA (considering also that you need more exams to reach this kind of certification)?
Anyway do you consider useful an Associated level (not all vendor has this kind of level)? And only for Operators/Users or also for junior administrators?