This post is also available in: Italian
Reading Time:
4
minutes
I've already describe the upgrade path to VMware View 5.1, but things change and there are additional patches for this View version (that is currently in version 5.1.2). Of course also HCL may change (with more support) and, for example, recent version of View 5.1 are fully compatible with recent version of vSphere 5.1.
Binary and build version are:
VMware-viewcomposer-3.0.0-691993
VMware-viewconnectionserver-x86_64-5.1.2-928164
VMware-viewagent-5.1.2-928164
VMware-viewagent-x86_64-5.1.2-928164
The update procedure is just exactly the same of an upgrade procedure. So you can start from your View Connection Server(s):

Connection server update is really simple and without big issues or downtime (if you do not use it as a Secure Server). After the upgrade (that do not require a Windows restart) you can connect to the View Manager and check the Connection Server(s) version:

Next step is update the View Security Server(s) and is still similar to a generic Connection Server, exept that you need to re-pair each Security Server with its Connection Server: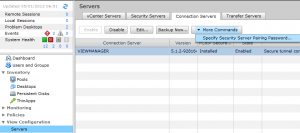 And also you have to prepare your server for the upgrade: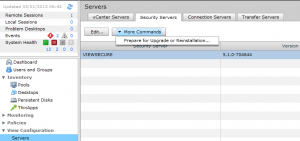 And you may have a downtime with this message:
This Security Server is paired with the 'VIEWMANAGER' View Connection Server instance using IPsec. If you continue, the IPsec rules that control communication between the security server and View Connection Server instance will be removed. The current IPsec rules must be removed before you can upgrade or reinstall this security server and pair it again with the View Connection Server instance. Continue only if you intend to upgrade or reinstall.

Warning: If you remove the IPsec rules for an active security server, all communication with the security server is lost until you upgrade or reinstall the security server.

Click OK to remove the IPsec rules now. Otherwise, click Cancel.
But I've done an upgrade using a Virtual Desktop as a client and no connection was lost except during the package installation and of course View Secure Server reboot (due to some Windows Updates).
Be also sure to have the Windows Firewall active on the Secure Server and the Connection Servers otherwise you cannot use the IPSec communication.
Then you have to update the View Composer, but maybe the build remain exactly the same, so just check it first: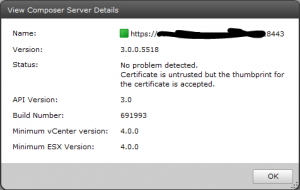 Otherwise you can simple start the installation file and follow the wizard. Be sure to reuse the existing ODBC DSN: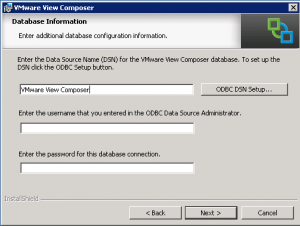 And also the existing SSL Certificate: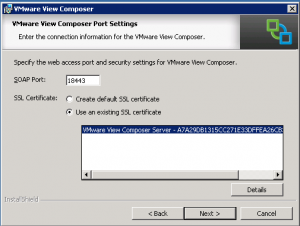 Then you can update the View Transfer Server(s), the View Agents (and remember to recompose the pools) and the View Client.
Finally you have also to update you GPO: