This post is also available in: Italian
Reading Time:
3
minutes
In the previous weeks Veeam has announced seven of the new features of Veeam Backup & Replication 7, by giving more application-aware functions and also a complete multi-tier backup solution (from the storage snapshots, to disk storage as a main level, to tape and/or cloud as the last or remote level). Note that tape support is more completed that was rumored inlcuding library support and more media rotation policies (included Grandfather Father Son).
Today there are two new interesting announcement of new features:
Built-­in WAN Acceleration: to optimize the remote operation and give up to 50x faster (compared to a regular file copy) Offsite Backup without the need of additional or external WAN optimizator. This is almost a remote backup (not the same as a replica operation) that was another most wanted feature.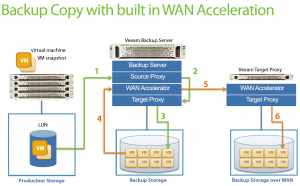 Backup from Storage Snapshots: that will permit to use the storage snapshots integration (actually only for HP LeftHand and soon for 3PAR) to enable backup from SAN operation not on the production datastore, but on its storage snapshot (by speed up the backup operation also by 20x)… That means a complete offload procedure!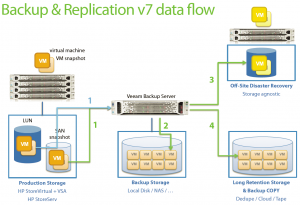 Veeam Backup & Replication v7 will be available in the third quarter of 2013.
Note that, in addition to the Free, Standard and Enterprise Editions of Veeam Backup & Replication, there will be also a new Enterprise Plus Edition (that will include those two new features). Veeam is offering a free upgrade to existing Enterprise Edition customers and to those who purchase or upgrade to Enterprise Edition before July 1, 2013. These customers can upgrade for free to the Enterprise Plus Edition through Nov. 1, 2013. Probably there will be also the Cloud Edition with the specific pricing (aligned with usual cloud offering), but has not been officially confirmed yet.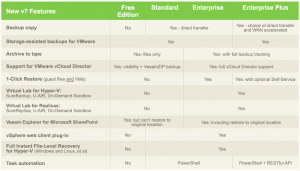 The beginning of this year has shown a good growth in both the revenues and number of customers(39% growth in bookings, and more than 63,000 customers by the end of the first quarter) and lot of attention about the new announcements. Also there was the announcement of the Cloud Edition.
And finally, it's been just over 5 years that Veeam Backup & Replication has been available! This great infographic shows the past 5 years. Happy Birthday Veeam Backup & Replication!