This post is also available in: Italian
Reading Time:
7
minutes
During the last Dell Enterprise Forum, Dell announced a further differentiation to the range of converged infrastructure solutions to help businesses of all sizes to address common issues related to complexity, inefficiency and rigidity of the existing IT infrastructure.
The new solution called Dell PowerEdge VRTX (available from 26 June) can be customized for specific applications and workloads, but also can bring enterprise-class convergent technology to new scenarios: ROBO and SMB.
According to a recent analysis by IDC (IDC Worldwide Converged Systems 2013-2016 Forecast: Adoption Fueled by Fast Tim-to-market Demands, Doc 237979, Nov 2012), it is estimated that spending on convergent systems will grow at a compound annual rate of over 54% in the 2011-2016 period, driven by the benefits in terms of costs and efficiency arising from the management of IT, from the simplification of engagement with the vendor and the reduction of the 'time-to-productivity' with upgrades of IT systems.
On the other side there are 27 million small offices in the U.S. alone, or a whopping 60% of the GDP of China is contributed by small-to-medium enterprises. The previous converged solutions where focused only to the enterprises and were not useful for ROBO (Remote Office/Home Office) or SMB.
Dell PowerEdge VRTX allows customers and partners to:
gain greater simplicity – with servers, storage, networking and management all in one compact chassis, the PowerEdge VRTX uses 86% less cabling and allows customers to save time than installing individual specific systems and can also eliminate the complexity, cost, and the proliferation of external devices and multiple management tools;
achieve greater efficiency – enjoy increased productivity with updates to Dell OpenManage Essentials for PowerEdge VRTX, which includes remote systems management, complete, and agent-free, with a new geographical view of IT assets deployed that can save time and reduce errors, associated with each PowerEdge system VRTX is the Chassis Management Controller (CMC), an integrated console for a single, simplified control components on the server, storage and networking;
get more value with a pre-configured solution – Dell PowerEdge VRTX meets the need for different channel partners to have an advanced solution and pre-configured, which can be upgraded with software and services for customers in industry verticals.
Techical specs

The solution looks like a tower form system (with wheels!), that could be optionally be mounted in a rack standard form factor (5U height).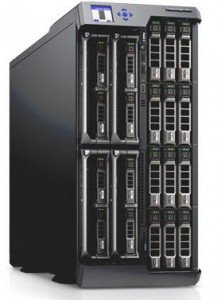 In the front view, the left half of the space could be filled with different blades (up to a maximum of 4), while the right half could be filled with disks. A big difference compared with the Dell PowerEdge-C solutions is that, in this case, the disks are shared between the different blades (also note that each blade has two local disks, typically in RAID1 configuration).
The blades are exactly the same as the M1000E blade solution, with the only limitation the the supported models are only Intel and half-height size. You will also need a firmware updated to reflect that the blade is not in a M1000E enclosure, but rather in the new VRTX (which, for example, does not has the fabric B and C, and, yet, 10 Gbps networking).
Disk space could be filled with standard the PowerEdge SAS disks with different technologies and size (SSD, SAS and Nearline SAS). Interesting is that the storage can be shared between different blades through the new Shared PERC8 (note that actually the PERC is a single point of failure, but it will be created a redundant configuration within the year), in a similar way to that of the PowerVault SAS (but apparently not with the same LSI technology).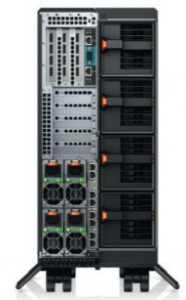 In the rear view you found the presence of up to four standard power supplies (from the PowerEdge rack or tower series), and also with a standard PDU! Definitely an advantage over the power of a M1000e that require high capacity PDU.
It may also be noted (from the top left and moving down) the different PCI-e slots: 3 full and other 5 half size. The interesting aspect is that these cards can be "mapped" to each blade in different ways. This also opens this solution to specific usage scenarios, such using flash cards or GPU cards in a VDI environment.
There is also a pass-through card option for the networking, as an alternative to the standard 1GbE internal switch with 16 internal ports and 8 external ports.
On the right side you can see the different hot-swap fans (note that, as the power supplies, are marked with an orange tab that contradicting all the hot-swappable components).
In the central top part, you can found the CMC (the mangement interface), that could be also configured in a redoundant way (like you can do with M1000E solution).
Here a recap for the main technical caracteristcs:
Chassis: 5U rack or pedestal
Shared storage: 12 x LFF or 25 x SFF hot-swap hard disk bays
RAID: Shared PERC8 (max 2)
Array support: RAID0, 1, 10, 5, 6
Expansion: 8 x PCI-e Gen2
Network: 8-port L2 Gigabit switch blade
Power: 1100W hot-plug PSUs (min 2, max 4)
Management: Dell CMC Enterprise (max 2 CMCs)
Server Nodes: Dell PowerEdge M520 or M620 (max 4)
For more information see also:
Conclusion
The new Dell PowerEdge VRTX (pronounced "ver-teks") is definitely an interesting solution that become the entry level solution in the Active System family (initially called vStart) to build "ready to run" and convergent solutions, but with a more affordable price and without having to constrain the acquisition of an entire rack.
Declared user cases are SMB segment and ROBO scenarios; also this solutions is designed to be a platform for virtualization (the various certifications with different operating systems and hypervisors are already ongoing and almost completed).
The possibility to include PCIe also opens interesting user cases, like VDI-in-a-box where the normal blade solutions are normally limited by the absence of expandability of this type.
Note that at the moment there isn't a true converged solution (or at least not completely), by the absence of a 10 Gbps converged networking, but will be provided soon.
Also interesting is the power management aspect, where Dell (along with a few others) implements all the features offered by Intel in this area (in particular, the Intel Node Manager) to define energy profiles, usage thresholds or budget or temperature profiles. All of course (we're talking ablout G12 blades) with the fresh air cooling technology.
Finally let's consider another possible use of this product: although we are talking so much about cloud (especially hybrid cloud), often a datacenter migration mean (or is implemented) as a physical migration of the entire infrastructure. In this case the entire datacenter might be save in this compact and transportable solution!
For more information see also: