This post is also available in: Italian
Reading Time:
3
minutes
By talking about SanDisk, my first thought goes to the "consumer" market of the flash cards, where it's well know. Some of my SD memory cards are from this company, but probably their products are "hidden" in a lot of other devices. But SanDisk it's not only flash cards, considering that they also product Solid State Devices (SSDs) for desktops, laptops, and ultrabooks.
And they are in the Enterprise segment too with Enterprise SSDs with PCIe, SAS, SATA interfaces and some interesting software like FlashSoft and Membrain. They work with OEM (like Dell and NetApp), Channel/Reseller & Direct.
It's also a big and worldwide company with more than 4700 employees, 3 world class fabs, 633M$ of annual R&D investment, and more than 4500 patents!
Now SanDisk announce the new version of the FlashSoft product, with the purpose to bring flash technology in the enterprise, maximize its value and improve it's usage and it's benefit. The interesting aspect is that the solution is completely hardware vendor independed and could be integrated with any server, storage and network infrastructure.
Flash usage in the datacenter could be at different level and positions: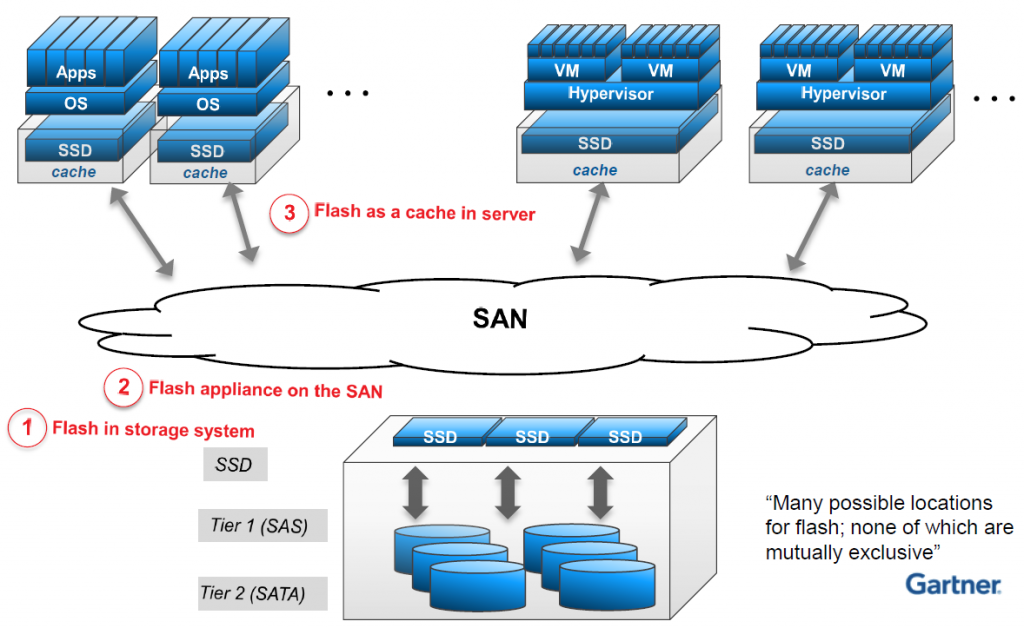 The FlashSoft solution works at the host level to improve storage efficiency and move I/O traffic from SAN to cache, by using both flash cards and/or SSD. The most interesting aspect is the focus on compatibility where no change is required neither to to Apps, OS, VMs or storage systems, network or policies.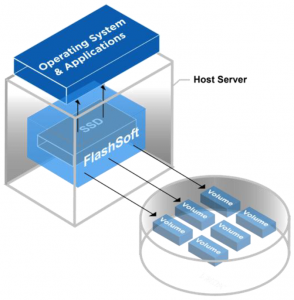 Their solutions could both work on:
"bare metal" for physical systems (for example for DBMS acceleration) and it's compatible with Linux & Windows Server
virtualized environment based on VMware vSphere 5.0 or 5.1 (for example in a VDI infrastructure)
Cache could be write-back cache (for single node) or Write-through cache (for cluster environment). Next product versions will probably be cluster aware in order to bring those benefit also for write operations.
The new version will be versioned as 3.2 to find a uniform number for al products:
FlashSoft 3.2 for Windows Server (version 2.0 updated to 3.2)
FlashSoft 3.2 for Linux (version 2.0 updated to 3.2)
FlashSoft 3.1 for VMware vSphere (released April 2013)
The intent is also to bring a common cache engine for all products, and version 3.2 has some interesting key features:
Multi-SSD Support that permit heterogeneous Physical SSDs with a "single view" provided by FlashSoft LVM for Logical SSDs
SSD Mirror for "Safe Write-Back", that provide high resilience of your data and a"zero-latency" mirroring
Cache size: up to 2TB per cache (8 TB per server)
2048 accelerated objects per cache (8192 per server)
Product is licensed per host and compared to specific solutions provided by each flash card product vendor it offer and vendor indipendend approach, that can scale also with SAS SSDs and does not require any reconfigurations of your OSs or applications.