This post is also available in: Italian
Reading Time:
6
minutes
The primary motivations for becoming vExpert certainly should not be related to any possible benefits of the program. And once confirmed (for me is the fourth year in a row) you have to think more about what you can give rather to what is to be expected. But I'd be a hypocrite to deny that there are also practical advantages in being a vExpert!
Officially, VMware according with the FAQ say that the biggest benefit of the award is the public recognition as a VMware vExpert Award winner. But benefits also include:
Award certificate and gift (this was the the one of the previous year)
vExpert logo to display on website or email signature
Access to a private vExpert community
Free subscription to conference session materials on VMworld.com
Access to exclusive online events and other opportunities to participate in activities
Inclusion in public vExpert directory
Unofficially, there are, sometimes, also the access to VMware beta programs and/or products license. Note that VMworld pass are not listed… so it could be, but also not!
And there are also different groups and lists:
And finally there are also 3rd part benefits (for a NFR license list see also this post).
TrainSignal
TrainSignal give the access to a lot of material:
Over 1,500 hours of IT pro video training
Over 200 hours of VMware video training
30 VMware courses that include topics like vSphere 5.1, vSphere Advanced Networking, vCenter Operations Manager, vCloud Director 5.1, vSphere Performance, vSphere Troubleshooting, vSphere Design and new courses on the way (including VCAP-DCA5, EMC Storage Essentials, and more)
Certification practice exams (including the VCP)
Offline viewer (Win/Mac)
iPad compatible streaming
Tintri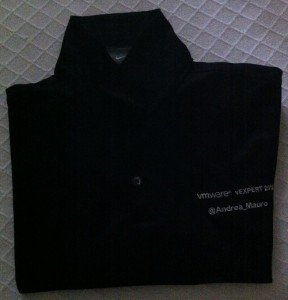 Like previous year, Tintri recognize vExpert guys with a nice shirt. The one of previous year was really cool and also this year seem nice (and with the news of the number of starts related to the number of years in vExpert program).
August update: shirt are in production, so is no more possible fill the request form.
Nutanix
Nutanix would like to congratulate all #vExpert winners with a personalized pint glass available at #VMWorld! Winners- reach out if interested.
For more information see this post.
Proxima data
Proximal Data give a free trial of AutoCache, a software cost-effectively solution that removes I/O bottlenecks in VMware ESXi servers, enabling you to increase your VM density by up to 3x.
Veeam
As usually Veeam is giving a free 180-day NFR license for 2 sockets of Veeam® Backup Management Suite™ 7 for VMware (or Hyper-V for Microsoft certifications/awards) for your home or work lab.
Note that this does not apply only for VMware vExperts, but also for VMware Certified Professionals (VCP), Microsoft Certified Professionals (MCP), Microsoft Certified Technology Specialists (MCTS) and Most Valuable Professionals (MVP).
Symantec
If you are a VMware vExpert, VMware Certified Professional or VMware Certified Instructor, you can get free two licenses of Symantec Backup Exec V-Ray Edition along with 12 months of essential support to use in production or non-production environments (e.g. evaluation, demonstration or training purposes).
DataCore
If you are a VMware vExpert, VMware Certified Professional or VMware Certified Instructor, DataCore Software is offering a free 1 year NFR license for DataCore's SANsymphony-V Storage Hypervisor Software.
SolarWinds
VMware vExperts are offered a free 6 months NFR/Demonstration license to Solarwinds Virtualization Manager.
Nakivo
If you are a VMUG member, VMware vExpert, VCP, or VCI you can get a free two-socket Not For Resale (NFR) license of NAKIVO Backup & Replication for your home or work lab.
Unitrends
If you are VCPs, VCIs, vExperts, MVPs, MCPs you can protect 2 sockets and 2 physical servers with Unitrends backup solution. Note that you have also phone, e-mail and online support with 1-year expiration (renewable along with certification).
Login VSI
The Login VSI VIP program builds on these programs and offers a number of special benefits to all active Citrix Technology Professionals (CTP), to all VMware vExperts, and to Microsoft Most Valuable Professionals (MVP) for App-V, Remote Desktop Services and Virtual Machine:
A free (for non-commercial use) Login VSI Pro license (12 months, 100 user sessions)
Your relevant blog posts featured on our website
Login VSI goodies (like the "I love a good performance" T-shirt) when we meet in person
Direct access to our support, product marketing and development team
SimpliVity
SimpliVity is recognizing the vExpert efforts for the community and is a free Raspberry Pi, personalized with your name and vExpert status!
Raspberry Pi is the open source credit-card sized computer that allows brilliant technical folks like you build all kinds of cool things. Can also used to build media center or thin client!
HP
If you are interested to a NFR license of HP StoreVirtual VSA (that can also be used to testing the storage integration of Veeam Backup & Replication), just ping (and thanks) Calvin Zito:
Here's a ChalkTalk I have on updates to HP StoreVirtual VSA: http://t.co/Eljnk2PT9z If you're a vExpert and want an NFR license, ping me

— Calvin Zito (@HPStorageGuy) August 13, 2013
VSS Labs
VSS Labs is releasing a new product, called vCert Manager, which will vastly improve the SSL certificate management experience for VMware customers. VSS Labs has a free NFR license available for home lab usage, with a special bonus for current fellow VMware vExperts. The tool will discover all of your components, even if they exceed your license, but you can only actively manage the number up to your licensed threshold (2 vCenter, 10 hosts).
For more info see this post.
Other
Just received my #vExpert stiker http://t.co/1Fznem79dE /thanks @dawoo pic.twitter.com/DIxDb6Dzx4

— Andrew Mauro (@Andrea_Mauro) July 19, 2013