This post is also available in: Italian
Reading Time:
3
minutes
Today (in Europe, yesterday night in US) has been announced the winner of the "Grand Prize" winner of the "game" CloudCredibility. This is the first part of the official announceon the CloudCred site:
After a wonderful 5 months in action, the CloudCred Grand Prize winner has been chosen!
Congratulations to user AndreTheGiant for winning the Grand Prize!
I think that there is no need to explain what is CloudCred, and also the gamification idea isn't so new. It has started with some doubts on the format and on part of the initial content, but some weeks it has become more interesting with several tasks more in topic and also several paths around some topics and I've found it better and useful (I still think that 5 months are too much…). I've started with CloudCred initially for curiosity, but now I'm really happy and honored for the position (both mine and the one of the teamVMUGIT) and the prize! Thanks to all the CloudCred team for this big opportunity and also the have done several audits in the second part of the game.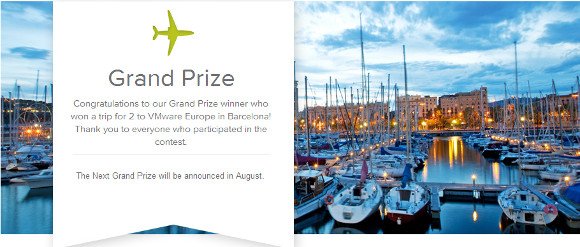 This is the rest of the official announce:
AndreTheGiant, known in the professional world as Andrea Mauro, has worked in IT for the past 17 years. Andrea is a virtualization and storage architect specialized in VMware solutions, with experience in Microsoft, Citrix, and Linux solutions.
Andrea has earned numerous technical certifications including VCP, VCAP, VCDX, MCITP, MCSA, MCSE, and CCA as well as being a vExpert from 2010-present. Currently, Andrea works for an Italian IT company, Assyrus Srl, founded in 2000.
Additionally, Andrea is the VMware Italian User Group founder and board member, VMTN Community Moderator, #vBrownbag and Backup Academy contributor, and a passionate blogger. Be sure to check out his technical mastery, as displayed in his blog, http://vinfrastructure.it
In the CloudCred realm, Andrea has maintained his position at the top of the leaderboard, currently in first place and leading by more than 13,000 points. Andrea has completed a whopping 966 tasks, earning 13 badges along the way. Check out his CloudCred profile for more details on how he has excelled.
He will be awarded 2 passes to VMworld Europe 2013, 2 round-trip airfares to Barcelona for the event, 5 nights of accommodation in a hotel, and some spending money. Congratulations Andrea!
Disappointed you didn't win? Don't worry—you'll have another shot at the new Grand Prize, which we will be announcing in September. Don't let it keep you from attending VMworld either! Register for VMworld US or VMworld Europe, and earn some major CloudCred points that could help you towards winning the new grand prize. Check out these tasks for more information:
Congratulations again to Andrea/AndreTheGiant, and good luck to all CloudCred players. Keep building your CloudCred and you could be the next Grand Prize winner!