This post is also available in: Italian
Some weeks ago I've got the opportunity to speak with Steve Crawford, vice president of marketing and business development at Jamcracker Inc, about their solution and their vision about the cloud.
Jamcracker is a global leader in cloud services brokerage (CSB) enablement solutions. They help companies become cloud services brokers with their Jamcracker Services Delivery Network (JSDN) solutions. Jamcracker can help companies to unify delivery of private, public, or hybrid cloud services to your customers, through the channels, and to their employees.
Cloud computing offer serveral advantages but there are also different aspects that must be considered, for public, private and of course also of hybrid approach. With a "cloud broker" you can manage several aspects and solve some of the issues and the possible pains.
By quoting Gartner (2012 ): "CIOs and IT management are seen as the key people responsible for the end-to-end delivery of cloud services. As such, they should become familiar with the growing industry trend of cloud services brokerage, its maturing functionality and the role it can play in the delivery of cloud services."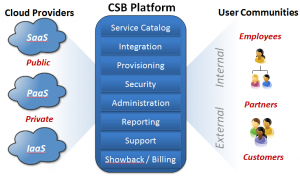 A Cloud Services Brokerages (CSB) platform could help to handle different cloud solution by providing:
Self-service catalog
User and service management
Cloud provisioning via service adapters
Authentication, authorization, access control
User support
Consolidated billing & reporting
The Jamcracker solution offer:
Complete CSB enablement solution = Quick time-to-market
Unifying services delivery since 1999–Proven platform, technology and business enablement–Delivering hundreds of services through dozens of Service Providers, Distributors and IT providers
Cloud services ecosystem enablement –Abstracting complex technology & business issues –Complete "out of the box" solution including platform, cloud integrations and managed services "wrap-around"
Technology and services agnostic–Flexibility to adapt to emerging needs
Complete enablement solution–Quick time-to-deployment
It is based on the following Cloud Services Brokerages workflow: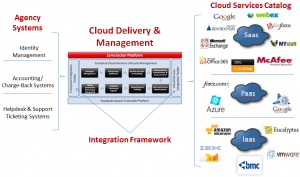 Catalog Management:

Service Definition and Integration: enables any service to be integrated into the master catalog
Catalog Management: multi-tiered catalog definition and management that enables creation and segmentation of catalogs
Jamcracker Service Delivery Network (JSDN): provides a catalog of 3rd party services with volume licensing and discounts
Service bundling: Enables bundling of public, private or hybrid service offerings

Self-Service Fulfillment: employees gain access to private and public cloud services, sanctioned by IT, via self-service catalog
Service and user provisioning:

Centralized Service and User Provisioning: all provisioning can be controlled from a central console
Policy-based automated provisioning: define complex dependent workflows, enables policy-based automation of workflows

Authentication, Authorization & Accesso Control:

Single Sign-On (SSO): use federated identity to provide access to all services with a single password
Roles-based authorization and access control: provides granular control of cloud services access based on user role and privileges
Password policy enforcement: enables uniform password policy across the enterprise

User and Service administration:

Centralize and automate CRUD events for services and users: provisioning, add-more, de-provision users from internal/external services
Centralize or delegate administration responsibilities: push policy and user management down to individual departments, etc.

Reporting and auditing:

Reporting, Notification and Exceptions Alerts
Service Usage Tracking and Auditing
Configurable roles-based dashboard views

Helpdesk ticketing & support:

Helpdesk console for user-submitted tickets
Multi-tier Support
Knowledgebase
Notifications and Alerts

Billing, metering & chargeback: billing Aggregation and Settlement and consolidated Show-back Reports regarding internal usage (applies to on-premise and external services)
This post has already been read 1377 times.