This post is also available in: Italian
Reading Time:
2
minutes
After one month from the v3.2 announce, NAKIVO has announce the new v4 release (available in 2013) of their Backup & Replication product with several new features. Note also that new edition will be introduced with this new release: Enterprise and Cloud Service Provider editions.
Starting from the v3 features, the new key features are: multi-tenancy, self-service, scalability, object recovery, backup verification. For more information join the NAKIVO v4 – New Enterprise and Cloud Editions webinar or 20th August.
Multi-Tenancy and self-service
Now, enterprises and service providers can protect multiple business units and customers through a single interface while each business unit or customer will only have access to their own data through a self-service interface. Considering that the program user interface it's already web-based, this is really a good starting point to add those features.
For more information join the Multi-Tenancy webinar on September 3rd.
Scalability
Considering the cloud and multi-tenant case, a good architecture it's necessary in order to have good scalability and also bandwidth optimization. NAKIVO is designed with local trasporter in order to handle this cases. The advanced network-distributed architecture enables NAKIVO Backup & Replication to scale out within large datacenters to protect more than 1,000 VMs and support hundreds of geographically distributed environments with more than 2,000 miles between endpoints. For more information join the Scalability webinar on September 10th.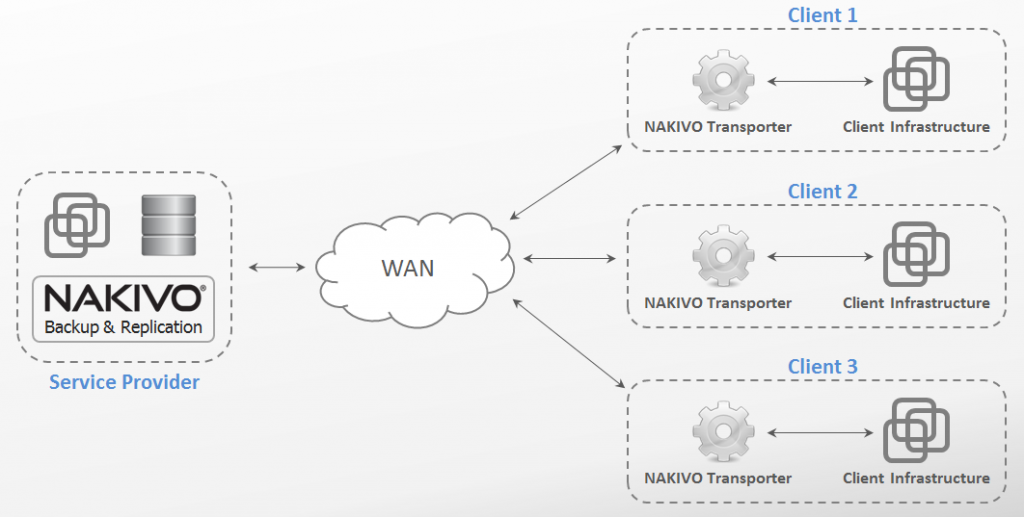 Exchange Objects Recovery
Both Enterprise and Cloud Service Provider Editions include the built-in Exchange objects recovery feature, enabling seamless email recovery directly from the VM backups of MS Exchange. For more information join the Exchange Objects Recovery webinar on August 27th.
Licensing
Not only the editions are changed, with the one, but also the licensing model has now changed. Pay-as-you-go monthly rental licensing per VM will be available to qualified service providers. Per socket licensing will be available for all editions of NAKIVO Backup & Replication.