This post is also available in: Italian
Reading Time:
2
minutes
The new releases of Windows OS products (both Windows 8.1 and Windows Server 2012 R2) are actually in a RTM state for OEM and will be public available on October (probably the 17th or the 18th). Actually, in the last days, Microsoft has announced that the RTM is also available on MSDN and Technet.
Or you can simple ask to download the evaluation product (but in this case it's just a beta version).
If you want to run them on a VM it's really easy because it's just the same of running a Windows 8 or a Windows Server 2012 VM. And also for a nested hypervisor the trick remain the same. For example, for VMware Workstation 9 you have to define a new VM using the Hyper-V type: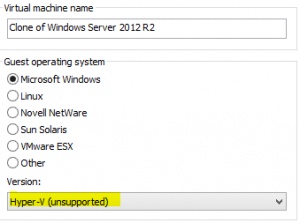 This is needed only for nested hypervisor, because you have to enable Hardware Assistant features at VM level:

Note that the ISO is not automatically recognize (I've not tested on Workstation 10), but you can simple specify manually the needed parameters.