This post is also available in: Italian
Reading Time:
5
minutes
During the recent VMworld Europe, I've got the opportunity to talk with Mick Bradley, VP Technology Solutions & Service EMEA of Violin Memory about their storage products and their users cases in virtualization projects. I've already met them one year ago, during the past edition of Powering The Cloud and this was the opportunity to know the news about those months.
Has already written in the previous report, their storage are completely flash based, but the big difference from other similar approaches (like Nimbus Data and Pure Storage) is that the flash are not mounted on SSD but directly connected to the storage system, this to avoid the SAS interface of the SSD and reduce potential bottleneck.
Their product line is almost composed by three different area:
Memory Array: Violin flash Memory Arrays redefine high-performance, shared storage at disk-storage economics.
The main products are the 6000 series and the 3000 series.
Memory Appliance: Violin Memory Services Appliances provide memory based application acceleration, tiering, migration and data protection services. This product can be used to accelerate an existing storage without change it.
Memory Cards: Violin Velocity Memory Cards deliver performance and scalability for server-based application workloads.
I think that the Memory Array does not need too much presentation (it's typical user case is in server virtualization or in VDI environment), and maybe the other two product families require some details.
The Force 2510 Memory Appliance is a way to bring the speed of flash memory to your legacy storage infrastructure, but also to permit transition to a full flash solution with a migration option to a Memory Array without any downtime. It implement Real time Memory Tiering and High Speed Data Protection and the memory tier is based on 192GB DRAM, 8TB Flash per unit up to 256 TB External Memory (that can be tier with Violin 6000 Series Arrays). Its front-end is FC and could be deployed in a redundant configuration with a dual Active/Active Memory Appliance configuration for high availability.
The Velocity PCIe Flash Memory Cards are build on Violin Memory's patented hardware-based flash management and vRAID algorithms, Velocity PCIe Flash Memory Cards deliver sustained performance, spike-free latency and enterprise grade reliability, without wasting critical host CPU and memory resources. Velocity Memory Cards are self-healing in the event of media failures, allowing uninterrupted application service. From large NoSQL scale-out analytics clusters to smaller Microsoft SQL Server databases and Virtualized Infrastructure environments, Velocity Memory Cards deliver the ideal mix of capacity and performance density.
The design, size, airflow are designed for optimize the consuption and avoid server overhead. There are different product corresponding to different size of capacity: 1,37TB, 2,75TB and 5,5 TB.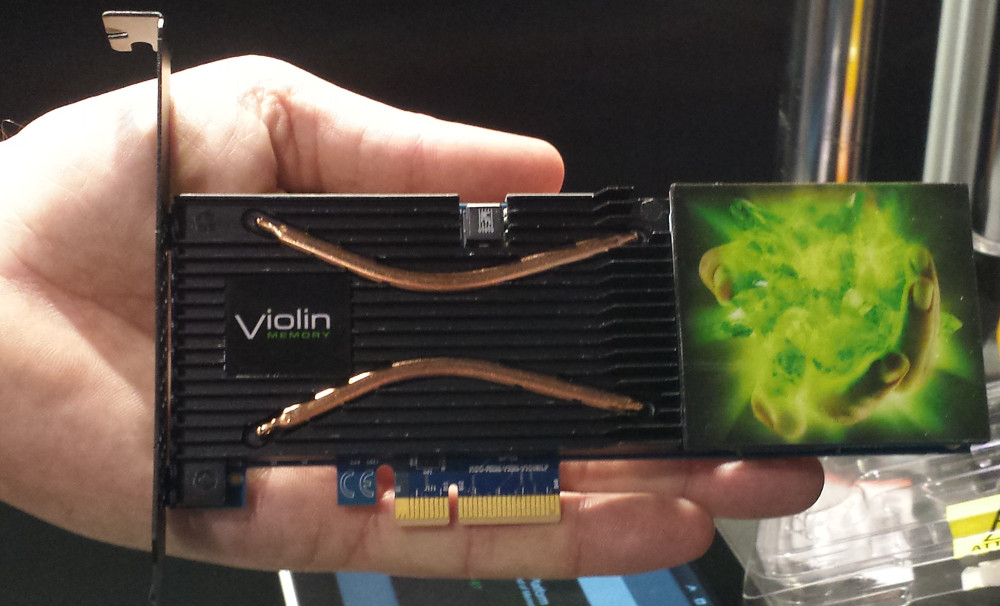 During the VMworld 2013 EU there was also an important announce: Violin Scale-out Memory Platform Accelerates Windows Applications in the Enterprise Cloud.
Together, Microsoft and Violin have optimized Windows Server 2012 R2 for an all-memory persistent storage solution that sets new standards of performance and economics for large-scale enterprise cloud deployments. Microsoft has rewritten parts of the Windows Server 2012 kernel to optimise it for flash, and Violin Memory rewritten parts of its vMOS operating system to optimise data paths for the Microsoft software. With native support of Windows Server 2012 R2 and System Center 2012 R2, the Violin scale-out memory array platform enables customers to deliver continuous and highly available enterprise application services in the cloud with ease and scale.
Violin's 6000 and 6200 series arrays can run Windows server, but not the smaller 3000 series products.
By running Windows applications natively on the platform, and leveraging the use of native Microsoft management tools, customers can create an enterprise cloud with no boundaries. Enterprise applications including SQL Server, Microsoft SharePoint, and Microsoft Exchange along with Windows Server Hyper-V virtualization and Server Message Block (SMB) file services, benefit from direct access to persistent memory for lower latencies and higher performance. For example could be use see an usage for an Unified Storage. For more information about this announce see also this post.
Of course it's not limited to Windows based system, but works fine also with Linux system. For example see this recent press release: Violin Memory Accelerates Database Performance for Online Transaction Processing and Decision Support System Workloads.
See also the other mine reports from VMworld Europe 2013.