This post is also available in: Italian
Reading Time:
3
minutes
In my briefing with APTARE, during the last Powering the cloud event, was with Nigel Houghton, Regional Sales Manager at APTARE. I've met him also last year during the past event so was the opportunity know what has changed in the last months.
APTARE is the leading independent provider of enterprise data center optimization software that helps companies maximize their storage environment, reduce TCO (total cost of ownership) and ensure that their critical data is protected.
The company has a long history because was founded in 1993 by a team of enlightened computer software engineers that focused on designing and delivering transactional database systems that were massively scalable in two dimensions: capacity and performance.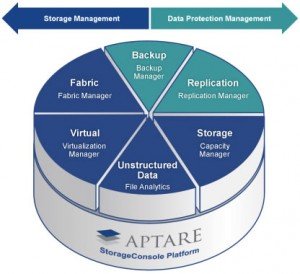 In 2002, while working on a professional services contract, the APTARE team recognized the need to provide advanced reporting on enterprise backup environments and developed and brought to market its first storage resource reporting product: APTARE StorageConsole® Backup Manager. Then other modules has been added to build the APTARE® management platform suite of products has been designed using proprietary technology that provides a "single pane of glass" through which an enterprises entire storage and backup infrastructure can be viewed. Now the suite provides detailed reporting, monitoring and alerting on all aspects of storage: physical, virtual, SAN/NAS, unstructured and backup.
It's a powerful reporting software that can provide detail on:
On October 2013 they have announce APTARE® StorageConsole® 9.0, the new major release and next generation platform that bring storage and backup analytics to the cloud.
By using a single HTML5 web interface and cloud reporting capabilities, StorageConsole 9.0 also brings to market these new features:
Greater depth and breadth of analytics including new subsystem support for Hitachi NAS (HNAS) and Dell Compellent to complement industry-leading existing heterogeneous support for EMC, Hitachi Data Systems, NetApp, HP, IBM, Oracle, VMware, and Symantec
Next generation architecture collects data faster, stores data more efficiently, and allows faster support for new subsystems and features with a universal data collector
Self-service custom report development accelerates time to value for specific data requests and automation of routinely scheduled reports, dashboards, and analytics
Modernized UI includes enhanced reporting features that make finding the data you need quicker and easier… plus integration with dynamic analytics from the cloud which provides real-time access to the most current set of APTARE reporting and analytic solutions
The new version is more oriented also for service providers (although multi-tenant feature was already present in the previous one) with lot of functions for showback, chargeback and capacity forecast (see also the Demo: Step-by-Step Instructions for Setting up Storage Chargeback Reports).
See also: full report list of Powering The Cloud 2013 event.