This post is also available in: Italian
Reading Time:
2
minutes
During the recent VMworld Europe, I've got the opportunity to talk with Serge Shats, CTO FlashSoft a division of SanDisk about their storage cache product and their users cases in virtualization projects. I've already wrote a post about FlashSoft 3.2, and this was the opportunity to know the news about the new versions and the future plans.
By talking about SanDisk, most people think about the "consumer" market of the flash cards, where it's well know. But SanDisk it's not only flash cards, considering that they also product Solid State Devices (SSDs) for desktops, laptops, and ultrabooks.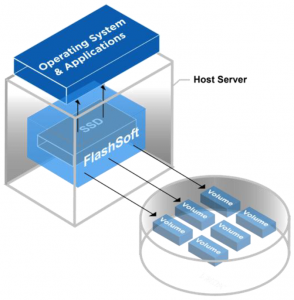 And also they are working on the software side: their idea is provide a host cache solutions that can use local SSD (SanDisk or not) to improve storage performance for VMware vSphere (actually 5.0 and 5.1), Windows Server (actually 2008 R2) and Linux systems (actually Red Hat Enterprise Linux 5.5, 5.6, 5.7, 5.8, 6.0, 6.1, 6.2, and 6.3 and CentOS 5.5, 5.6, 5.7, 5.8, 6.0, 6.1, 6.2, and 6.3).
The Operating System version are aligned to the 3.2 version (both for Linux and Windows) and the VMware version is actually still at 3.1 release.
Mostly of the detail in the previous post are of course still valid, but was interesting talk about the next version and how they plan to add a write cache also in cluster environment and how they solve the consistency dilemma in those cases.
Considering that VMware is already providing its Flash Read Cache technology (but limited to the Enterprise+ edition) and other vendor are already working (or have release) a Write Cache technology, we probably have to expect some interesting announce in next months or weeks.
See also the other mine reports from VMworld Europe 2013.