This post is also available in: Italian
Reading Time:
4
minutes

After the recent announce of v3.8 of NAKIVO Backup & Replication, now it's the turn of v3.9 that introduce Multi-Tenancy, Self-Service, and Dynamic License Allocation features. New features enable managed services, cloud, and hosting providers to introduce VM Backup-as-a-Service (BaaS), Replication-as-a-Service (RaaS), and Disaster-Recovery-as-a-Service (DRaaS) to their clients, while enterprises can easily manage VMware ESXi backup, replication, and recovery for multiple sites from a single pane of glass.
With the extended products support introduced in v3.8, that include VMware vSphere 5.5, Microsoft Windows 8.1 and also Microsoft Windows Server 2012 R2, this solution is become more and more complete and competitive, considering also the price really aggressive, the low resource consumption (requires just 2 CPUs and 2 GB of RAM for a single installation), the Linux support (product itself could be installed on a Linux distribution) and the built-in database.
This version basically include already most of the features announced in v4.0 (except Exchange Object Recovery):
Multi-Tenancy: most of other VM data protection solutions are not tailored to the needs of cloud, service, and hosting providers, as supporting multiple clients requires installing and configuring a new and separate copy of a backup and replication product for each client.
This lack of central point for data protection management adds management and maintenance overhead as well as additional compute resources and VM licenses.
The multi-tenancy feature for VM data protection, enabling the creation of multiple isolated tenants within a single product deployment and managed under a single pane of glass.
Self-Service: in the Multi-Tenant mode, tenants can access the self-service portal to offload the ESXi VM backup, replication, and recovery tasks from the service provider.
The self-service can be individually enabled or disabled for each tenant, and data protection privileges can be set for each tenant by a master admin.
Of course, self-service become really important both for provider admins and customers to permit delegation of several ripetitive tasks.
Dynamic License Allocation: license allocation within NAKVIO Backup & Replication Enterprise Edition supports transferring licenses dynamically from one tenant to another as needed for cloud service providers or from one business unit to another as need for enterprises.
In addition, qualified Cloud Providers can license NAKIVO Backup & Replication on the per-VM monthly rental basis (cost will probably be around 5$ VM /month) and not only per socket.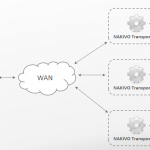 Using reports is possible have charge-back and show-back features useful to define also (from the cloud provider side) other form of service charging.
Multi-Tenancy deployment scenarios were already discussed, but probably the most interesting one is the multi-site option using different NAKIVO Transporters (one for each tenant and each site). This permit to implement also DRaaS and RaaS solutions.
Actually the integration with the new VMware vSphere Web Client is not (yet) available, but future releases may include it. And also could be possible in the future see a multi-hypervisor support.