This post is also available in: Italian
Reading Time:
2
minutes
I'm really honored to have been invited to as a delegate for third edition of Virtualization Field Day (#VFD3) event, scheduled in March 5-7, 2014 in California (Silicon Valley).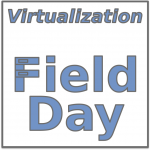 Virtualization Field Day is one type of the Technical Field Day events, organized by Stephen Foskett and his team, with the purpose of bring together innovative IT product vendors and independent thought leaders to share information and opinions in a presentation and discussion format.
Virtualization Field Day (VFD) focuses on server and desktop virtualization and management technologies and will be really interesting be part of this event and this group of people.
Announced vendors are (other will be added):
Also the Tech Field Day sessions are often streamed live, and recordings will be available after the event and could become available also for non delegates. In most cases they become a must to understand some technologies (see this post on why you need to be watching Tech Field Day).
Of course, I will prepare some reports after the event itself.
See also the posts of some other #VFD3 delegate:
Disclaimer: I've been invited to this event by Gestalt IT and they will paid for accommodation and travels, but I'm not compensated for my time and I'm not obliged to blog. Furthermore, the content is not reviewed, approved or published by any other person than me.