This post is also available in: Italian
Reading Time:
4
minutes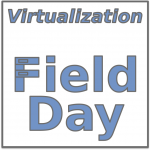 During the second day of the third edition of Virtualization Field Day (#VFD3) one of the companies that we (as delegates) met was CommVault, a company in the backup and data protection field and, of course, in the virtualization environment.
But it's quite limiting say that it's just a backup company (although it's well know mainly for this aspect), backup and restore capability is obviously a core part of their service offering. And probably one of the limit of their presentations at #VFD3 was that they were too much focused only on the backup aspects, and not enough on the others that can help in differentiate the product and the solution.
We have talk about CommVault Simpana software (Simpana 10 release) and their features for the virtualization world. There were also a lot of discussion about the positioning and the comparisons with other solutions (from my point of view some topics were too much biased and maybe not so relevant, but I've appreciated the discussion and the NDR session on the new next features).
One of the interesting aspect of Simpana is that it's built from the ground up on a single platform and unifying code base for integrated data and information management. All functions share the same DNA and back-end technologies to deliver the unparalleled advantages and benefits of a truly holistic approach to protecting, managing and accessing data. Simpana software offers investment protection with a core software platform that is flexible, modular, and ready to conquer new challenges as they emerge. Simpana software does the jobs of many point-level products, only better, more cost effectively, and much more simply.
The Simpana platform contains individually licensable modules to Analyze, Replicate, Protect, Archive, and Search your data.  With more than 300 new features, Simpana 10 is designed to not only protect data, but to transform businesses like yours by turning managed data into an information asset.
From the other side, this mean a design potential more complex (some CommVault pre-sales people say that isn't just buy a product, it's more about building a project) and licensing also is (or could be) complex and variable. Making comparison on different products with different license models actually does not make sense and, in my opinion, more must be done to simplify this aspect (and also the overall complexity). There are different appliances (some years ago I've written about the DL2300) that could be an interesting approach, as also some cloud services; but unfortunately we have not cover those specif topics.
What CommVault has tried to explain is thay they aren't just a backup software vendor and their solution are more than data protection solutions. Simpana can provide:
Single-platform with a holistic approach to data management with a flexible and extensible architecture that helps enterprises reduce risk, improve operational efficiencies, cut costs and derive more value from their data and information.
Self Service Portal for different teams (or tenants) giving them the ability to provision new VMs in vCenter or Hyper-V and backup or restore them
RBAC approach to handle permissions, that are stored in AD
Simpana IntelliSnap technology makes it easy to harness the power and efficiency of heterogeneous array-based snapshots to exponentially accelerate backup and recovery operations
DASH engine, which functions almost as a WAN accelerator and a storage agnostic solution, easing your pain during backups and file operations at remote sites
The ability to restore a backed-up VMs data to a fresh, naked, just-provisioned VM
An efficient support to cloud infrastructures also the ability to backup on-prem VMs and restore them to public clouds like Azure
De-duplication of your backup stores
Auto-power off or archival of old & unused virtual machines
Archiving function with inline data access for some applications (like Exchange)
The history of this company itself define the evolution from backup to data management:
1990 CommVault Galaxy: Backup & Recovery
2000 Simpana: integrata Data Management
Today: ContentStore: Management Data Assets
For more information see also:
Disclaimer: I've been invited to this event by Gestalt IT and they will paid for accommodation and travels, but I'm not compensated for my time and I'm not obliged to blog. Furthermore, the content is not reviewed, approved or published by any other person than me.