This post is also available in: Italian
Reading Time:
3
minutes
After the first announce in August (Nakivo annouce v4) and some intermediate versions (v3.8 and v3.9) with some of the announced features, and with also a good beta period, now the NAKIVO Backup & Replication v4.0 is finally available.
Built for virtualization, this backup product is an all-in-one backup and replication solution that features a Web UI, protects live VMs running applications and databases, can run backup and replication jobs as often as every minute, reduces the backup size with deduplication and compression, speeds up data transfer with network acceleration, enables full VM and granular recovery, provides reporting, encryption, and cloud integration features.
In the past week I've spoke with Sergei Serdyuk, Director of Product Management, and I've got the opportunity to know more on this version.
It start from the core functions already available in v3.9:
Local and offsite VMware VM backup & replication
Support for live applications and databases
Granular recovery from local, offsite, and cloud backups
Global data de-duplication and compression
Network acceleration, CBT, multi-threading, SAN support
vCloud Director support, Amazon Cloud integration
Linux or Windows install, Web UI, advanced reporting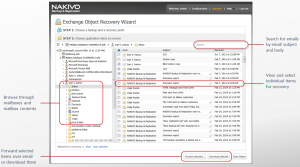 And will add those new features:
Exchange Objects Recovery: can recover Microsoft Exchange objects directly from compressed and deduplicated VM backups. This feature is 100% agentless and works out-of the-box even with existing backups. It supports Microsoft Exchange 2003, 2007, and 2010 and does not require creating a special lab or running a special backup type.
Exchange Log Truncation: Microsoft Exchange Server database transaction logs record all changes to an Exchange Server database. Over time, these log files accumulate and can consume all of the available disk space, if not periodically removed. NAKIVO Backup & Replication v4 provides the option to truncate Exchange Server logs after a successful backup. This feature is also purely agentless and works right out of the box.
Backup Verification: You can now run backup verification to ensure that VM backups contain exactly the same data that read on the source VM. The product will read each block of data and ensure that it is identical to the data block that was read on the source VM during the backup.
Pricing remain similar as previous version with a very aggressive price for the Enterprise edition for Cloud Providers (at only 5$/VM/month) and special discount for the Essentials bundles.
Remain an interesting product not only for the price, but also for the interface that is all web based (but note that actually does not integrate with the vSphere Web Client) and the support (for the installation of the service) both for Linux or Windows systems.
About the objects recovery they are working on new future solutions considering also the request of their client and customers and probably the roadmap will be first the Active Directory, than SQL Server and finally SharePoint.