This post is also available in: Italian
Reading Time:
7
minutes
For people, like me, that are missing this VMworld US, there is a great recap about the VMware related news and announces. Some new products has been announced, some products have change their name, some new released have been reveal.
Let's see most of them.
Software Defined Data Center
In the Software Defined Data Center (SDDC), that remain the core of VMware strategy and vision, there are a lot of news and annouces, also considering the different approaches to provision your SDDC.
VMware EVO:RAIL is the new VMware's hyperconverged solution for building Software Defined Data Center. For more information see the related post. Actually is not clear on which version of vSphere will be base (the edition will be the Enterprise Plus one).
VMware vCloud Suite 5.8 is announced with:

Improved business continuity and disaster recovery – Self service, policy based provisioning of DR tiers, increased scalability of protection and recovery capabilities, improvement on SRM integration with vCloud Automation Center. It's now possible to offer SRM as a Service in vCAC's self service portal (see also VMware vCenter Site Recovery Manager 5.8 First Look).
Enhanced next-generation applications, such as Big Data Extensions for Hadoop 2.
Improved interoperability with NSX.

VMware vSphere 6 (now in public beta) announcements:

vVOLs were announce in the past year, but of course will be a new important and interesting feature. Will be interesting see how a host will be able to handle a lot of "LUNs" (or vVOLs) without too much delay during bus rescan or VM migration… but can be a big change in the block level storage world.
Fault Tolerance in vSphere 6 will support 4 CPUs (finally… considering we are still using FT 1.0 from several years, but remember that it cannot, directly, handle application or OS fault).
VMware vSphere 6 will support cross vCenter vMotion as also long distance vMotion is enhanced (this could become really interesting in Hybrid Cloud scenarios).
Using VMware NSX, network properties will now be vMotioned as well when using long distance vMotion.

VMware Integrated OpenStack (VIO), a new virtual appliance for simple deployment of OpenStack integrated with vSphere.

VMware + OpenStack = Better Together. OpenStack offers already integration with vCenter/ESX, NSX, vSphere Datastores and VSAN, using OpenStack Nova, Neutron, Cinder and Glance.
New is VMware Integrated OpenStack (VIO) is the combination of OpenStack and vCloud Suite. A special OpenStack Virtual Appliance will be available for download. The OpenStack appliance will connect and prepare you vSphere environment to be used by OpenStack.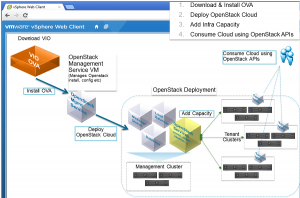 Hybrid Cloud
VMware vCloud Air (already announced last week) is the new name for vCloud Hybrid Service (vCHS). A pricing calculator has also already been released, and VCDX Chris Colotti shares some information about this new tool:New vCloud Air Pricing Calculator.
Based on top of the IAAS service, vCloud Air will also deliver DR services, desktop services and platform services. vCloud Air also includes SaaS-, object based storage-, automation- and databaseservices and is becoming much more similar (or at least complete in the offer) like AWS or Azure:
DevOps as a service
Database as a service with support for MS SQL Server and MySQL as a first step. Other database platforms will follow.
Object based storage VMware vCloud Air Object Storage (based on EMC ViPR technology) – Designed to offer extremely scalable, cost effective, and durable storage for unstructured data, VMware vCloud Air Object Storage will enable customers to easily scale to petabytes and only pay for what they use. VMware vCloud Air Object Storage will include lifecycle management, versioning and large object features that will simplify and reduce management overhead and for highly available hybrid application deployments.
Mobility services offered by vCloud Air are:

Enterprise Mobility Management – Offering an industry-leading platform for mobile device, application, email, browser and content management, AirWatch® by VMware solutions will be available this year on vCloud Air. AirWatch provides a simplified, efficient way to manage an organization's mobile footprint across employee-owned, corporate-owned and shared devices from a centralized console.
Mobile Backend as a Service (mBaaS) – Organizations will be able to scale their ability to build mobile applications and integrate them with corporate backend systems and third-party cloud services through mBaaS solutions on vCloud Air, offered by leading enterprise BaaS provider Kinvey, enterprise mobile platform, built.io, and Node.js community leader StrongLoop.
Mobile Application Development Platform (MADP) – Developers will be able to create mobile applications on vCloud Air using mobile web application development tools from Sencha's high-performance, HTML5 mobile application platform Sencha Touch Bundle and cross-platform application development capabilities, including Appcelerator Titanium or the extensible, integrated Appcelerator Platform.
Pivotal CF Mobile Services – Enterprise Platform as a Service leader Pivotal® is extending Pivotal CF on vCloud Air with mobile backend capabilities such as Push Notifications, API Gateway and Data Sync, all at enterprise standards of compliance and security.
Rapid Application Delivery – Customers can create, deploy, manage and change both mobile and web applications on vCloud Air with the high productivity application platform from OutSystems.
Automation and Management
This area has a lot of interesting new announce (and we can also consider EVO:RAIL another news for this area).
The interesting part is the cloud vision of VMware that is still based on a private part (VMware vSphere and VMware vCloud Suite and on a public part (now renamed in vCloud Air). In this vision vCAC is a powerful automation tool to be used in the "private" part and there is a new tool that could be used from the public part.


vCloud Automation Center 6.1 is announced
VMware vRealize Suite, a new suite for cloud management and is a complete stack for managing a SDDC and public cloud infrastructure (IaaS). Seems something interesting for cloud manament and also similar to Platform9 (maybe was the same initial team that has start both projects).
Actually the idea seems similar to the VMware Go tool from some years ago (I think to remember that there was a version to be used as a SaaS, but this one seems more promising and can manage also other clouds.
Network Virtualization
As written VMware has announce both NSX 6.1 for vSphere and also NSX Multi Hypervisor 4.2.
VMware NSX 6.1 for vSphere:

NSX integrates with vSphere 5.5 and newer;
Allows integration with external DHCP servers in the physical world;
Several different DHCP server can be configured;
Two stage ECMP support;
L2 VPN (including VLAN trunking) from two different NSX edges between two different (stretched) datacenter. This feature is comparable with the Cisco OTV feature;
Load balancing improvements: UDP & FTP load balancing is supported;
Seamless integration with F5 firewalls;
Enhancements to the NSX distributed firewall include: reject action, enhancements to troubleshoot and monitoring;

VMware NSX Multi Hypervisor 4.2:

Includes HA/hitless upgrade;
DHCP relay feauture (same as in NSX 6.1 for vSphere);
OVS performance enhancements;
GA in Q3 2014.

Enhanced integration with VMware vCloud Automation Center 6.1. Pre-created shared Distributed Logical Routers, dynamic creation of security groups per application with default isolation policy, create security groups per tenant, assign security tags per vApp.
End User Computing
VMware Horizon 6 was announced several months ago, but on day 2 of VMworld 2014 VMware made some important announcements in the  End User Computing space: