This post is also available in: Italian
Reading Time:
5
minutes
During the last IT Press Tour (the 14th), in the Silicon Valley (December 1-5, 2014) we met several companies in different categories (Cloud, Storage and Big Data).
The second company that we met during the first day of the tour was Cloudian, an hybrid cloud storage startup with strong management team from expertise in storage, big data and telecos.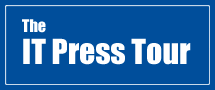 Paul Turner (Cloudian CMO),  John Ash (VP Sales) and Gary Ogasawara (VP Engr) have explain the company's vision and mission.
Cloudian, Inc. (formerly Gemini Mobile Technologies) is a Foster City, California – based software company specializing in cloud storage software. The main product is Cloudian, an Amazon S3-compliant cloud object storage platform, the bedrock of cloud computing systems, that enables cloud service providers and enterprises to build reliable, affordable and scalable cloud storage solutions. In addition, Cloudian is actively partnering with the leading cloud computing environments including Citrix Cloud Platform and OpenStack, cloud on-ramp providers, and the vast ecosystem of tools and applications that is afforded through true S3 compatibility.
Their HyperStore solution is available both in the (physical) appliance or in the software with also a community edition (for product evaluation, to test HyperStore software features in a single or multi-node install or to build 10TB object storage systems free of charge).
Cloudian could also be use to build an hybrid cloud storage, using a public cloud service (Amazon S3 or any S3 compatible solution) as a tier with the following advantages:
Bucket Lifecycle policies to migrate to Amazon S3 or Glacier, or other Cloudian HyperStore Clouds or other S3 compatible service providers
Global namespace with Metadata kept on premises for all objects
Archiving option to move metadata and data to the Public Cloud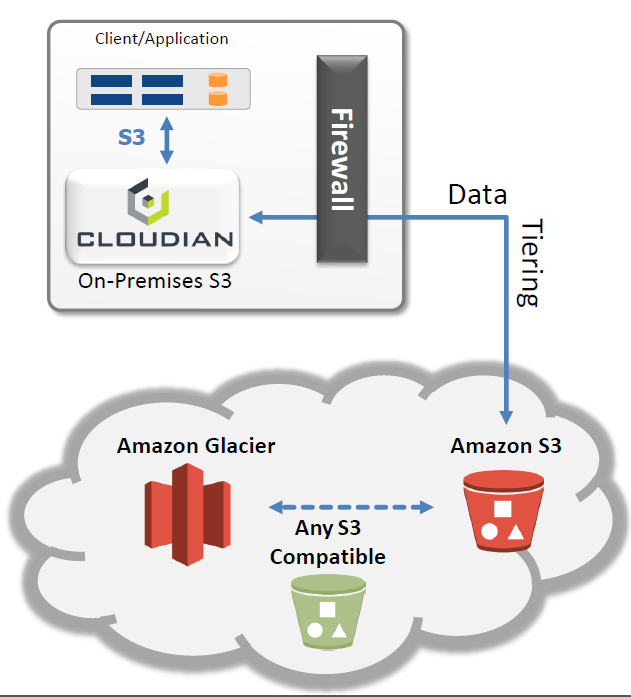 The history of their product are quite interesting with several version from 2011 to today and more features and functions in each version.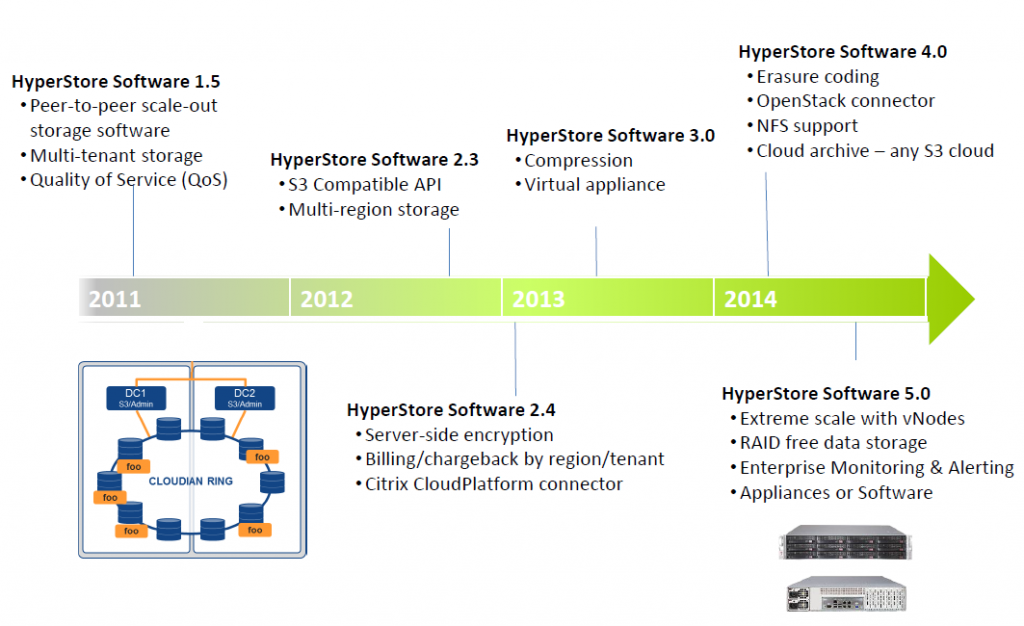 HyperStore 5.0 has become a mature product (with also a software only version) high scalable, with a RAID-free data storage, enterprise monitoring and alerting, server side encryption, compression and that include also a NFS support (there are possible plans to add also SMB3 in the future).
Having more protocols could be really important for those that cannot re-write their applications for S3, but can become less important for the future. For example, using this solution as a backup target could already be possible with CommVault  product (or the Veeam Cloud Edition), and in the future also with Symantec product. Actually over 400 enterprise applications already use S3 API.
There are different appliance modes:
HyperStore appliance (HSA) for entry-level clouds:

 


The HyperStore appliance (HSA) 1000 series comes in two models, both in a 1U form factor. The entry-level HSA1024 delivers 24TB of capacity and is perfect for low-throughput workloads and entry-level S3-compatible private cloud storage. It can provide capacity a cost of about 1.25c/GB/Month.
HyperStore appliance for high capacity active archives:

 


The ultra-dense HSA1048 boasts 48TB and is targeted at higher-capacity entry point deployments. It offers petabytes of storage in a standard data center rack. This configuration is a suitable building block for large multimedia content libraries, medical records, data center backups and other big-content applications. It can provide capacity a cost of about 0.85c/GB/Month.
HyperStore appliance for enterprise performance:
The high-performance HSA2060 model is flash-optimized and purpose-built for extreme IO bandwidth requirements. With up to 60TB of capacity in a 2U form factor, it features fast network throughput and hot-pluggable drives to perfectly suit high-performance enterprise environments like media and entertainment, energy, finance and healthcare. It can provide capacity a cost of about 1.03c/GB/Month.
Cloudian can scale with a scale-out model based of a "ring" and "vNode" concepts. Different topologies are possible:
Multi Data Center, Single Ring where replicas are stored across Data Centers, or
Multi Region, Multi Ring where replicas are stored within Data Center
As written it's completly RAID free and can get optimal performance from disks with independent I/O drivers (vNodes) per disk:
Efficiently Store Data without the overhead of RAID
Increased repair speed in case of disk or node failure
Allows heterogeneous machines in a cluster
The target of this type of product are high end enterprises, in the media entertainment, financial, oil market. There are more than 45 customers in production and more than 400 that are already using the community edition.
Main user cases are:
Backup
Collaboration & remote office
OpenStack
Archiving (media, ad esempio)
For more information see also those other posts/articles:
Disclaimer: I've been invited to this event by Condor Consulting Group and they have paid for accommodation and travels, but I'm not compensated for my time and I'm not obliged to blog. Furthermore, the content is not reviewed, approved or published by any other person than me.