This post is also available in: Italian
Reading Time:
7
minutes
Veeam Endpoint Backup is a free data protection and disaster recovery solution for physical machines. Veeam has announced this product on Oct 2014 and presented in several events, included the Tech Field Day Extra at Barcelona, and actually it's available in a public beta (with almost all functionalities).
It can work with Veeam Backup and Replication, but it's not mandatory for the overall architecture. The interface it's similar (also the version is starting, is some betas, from 8.x, alligned with actually version of the major product) and there is some kind of integration. And although Veeam Backup and Replication can already handle backup of physical servers (only at file level), this solution extend the backup to all the client (but, if you need, also for servers).
This product could be really useful to protect the endpoints, but it's not for all cases and all type of clients.
System requirements are pretty standard and without big surprise:
Any x86 or x64 processors
2 GB RAM
150 MB for product installation
On the Operating Systems there are some "limits": it works only with recent version of Windows OSes (client or also servers):
Microsoft Windows Server 2012 R2
Microsoft Windows Server 2012
Microsoft Windows Server 2008 R2 SP1
Microsoft Windows 8.x
Microsoft Windows 7 SP1
Those requirements will probably remain also in the final version (mainly they require at least a NT 6.1 kernel). So it's not suitable to backup and protect old clients, but remember that Windows XP supports has gone several months in April 2014 and Vista maybe it's not so used.
There are also some software requirements that include a SQL Database (Microsoft SQL Server 2012 Express LocalDB Edition is the default), Microsoft SQL Server System CLR Types, Microsoft SQL Server 2012 Management Objects, Microsoft .NET Framework 4.0. All those software components could be installed automatically during the installation of the product.
The idea to have a local database on a client machine seems not so good, but note that the LocalDB Edition requires the minimum number of files to install and takes little resources to run a local on-demand Microsoft Server instance. The LocalDB is executed as a sub-process launched by the Veeam Endpoint Service. When the Veeam Endpoint Service is stopped, the LocalDB sub-process is stopped, too.
Veeam Endpoint Backup allows to perform the following backup types:
Entire computer (that is mainly a volume-level with system state)
Volume-level backup
File-level backup
There is also the system state level backup that is mainly a volume-level that include also System Reserved data and Operating System data.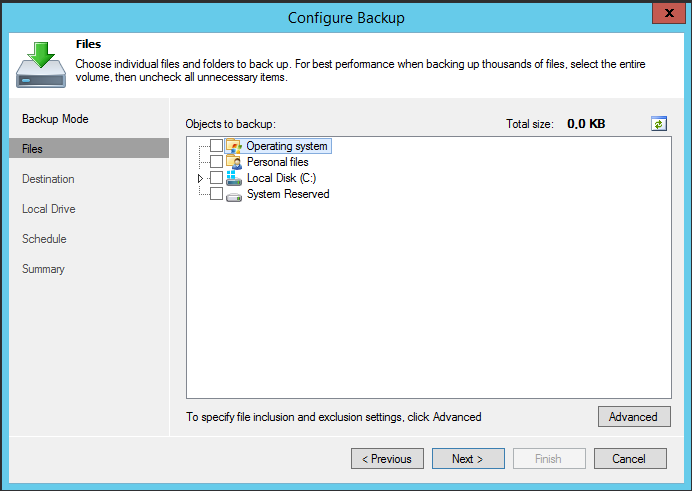 Veeam Endpoint Backup creates a Microsoft VSS snapshot that helps to make sure that the data on the volume are consistent and does not change at the moment of backup. Veeam Endpoint Backup does not create a VSS snapshot for the System Reserved partition as its data does not change during backup. During backup, data from the System Reserved partition is copied as is.
If an application on the computer uses transaction logs to maintain the database consistency, Veeam Endpoint Backup truncates transaction logs upon successful backup.
But note that the Veeam Endpoint Service runs under the LocalSystem account that does not have the necessary permissions to truncate transaction logs on Microsoft SQL Server 2012. If you want Veeam Endpoint Backup to automatically truncate transaction logs on Microsoft SQL Server 2012, you need to manually add the LocalSystem account to a group that has the SQL Server System Administrator rights.
Compared with the free edition of Veeam Backup and Replication, in this product the backup jobs can also be scheduled, and not only executed interactively.
Restore options are pretty interesting:
file-level restore (can perform from a file-level or volume-level backup)
volume-level restore (only from a volume-level backup)
bare-metal restores (using a bootable Recovery Image media).
The Veeam Advanced Recovery Disk can be created in a simple way with a wizard:
Backups created with Veeam Endpoint Backup can be saved to one of the following locations:
Local computer drive, included removable storage devices (usually USB device, but each Windows removable block device could work)
Network shared folder (only via SMB/CIFS)
Backup repository connected to the Veeam backup server (and this is the main integration between the two products, but in the beta is actually disable)
The data are stored using a forever incremental retention model (the same used in Veeam Backup and Replication) with one full backup (.vbk file) and several incremental files (.vib). There are also backup metadata file (.vbm), updated with every backup job session, that contains information about the computer on which the backup was created, every restore point in the backup chain and how restore points are linked together, and so on (the metadata file is required for performing file-level or volume-level restore).
Veeam Endpoint Backup has one-service architecture. When you install the product, the following components are deployed on the computer:
Veeam Endpoint Service is a Microsoft Windows service responsible for performing all kind of backup and restore tasks on the computer. The service is started automatically when you power on your computer, and runs continuously in the background.
Veeam Endpoint SystemTray Service is a Veeam Backup Endpoint tray agent that communicates with the Veeam Endpoint Service to let you monitor the backup status and provide you with quick access to main Veeam Endpoint functions such as performing backup and restore operations, viewing statistics on created backups and so on.
To store its configuration data, Veeam Endpoint Backup uses the Microsoft SQL Server 2012 Express LocalDB Edition.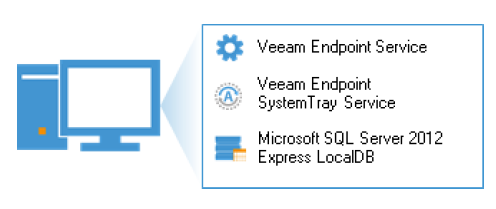 The product will install several tools in the Windows menu. There will be also a component in the system tray that you may need to make visible.
After the installation the product will ask to a target for the backup (by default a USB with at least 32 GB of space).
Building backup jobs and monitor them is very simple and easy (all it's at client side), that the Veeam Endpoint Backup Contol Panel is quite simple and clear:
Also the available options are simple and limited: just a couple of choices to disable backup, disable notification and enable the Backup IO control (in the beta is report as "Throttle Backup", but I've seen other screenshots with the name "Backup IO Control").

Considering that is a free product the best way is just try it and see how is simple. The final product will remain free and Veeam has confirmed that there will be always a free edition of it (like the Veeam Backup and Replication free edition). Of course this does not exclude to see, in the future, a more complete, integrated, rich version of this product with a commercial edition.
For more information see also: