This post is also available in: Italian
Reading Time:
5
minutes
As you probably know, some days ago Veeam has released the RC version of their free tool Veeam Endpoint Backup (announced for the first time on Oct 2014). Veeam Endpoint Backup is a free data protection and disaster recovery solution for physical machines, both client or server, but actually limited to "recent" version of Windows (mainly from NT 6.1 release).

Comparered to the beta version, this new version add a lot of new features, including:
Backup directly into Veeam backup repositories
Full support for Bitlocker drive encryption on backup and restore
Ability to control power state of the computer after daily backup
"When backup target is connected" event (former "On storage attach" event) now supports both USB drives and remote storage, and triggers when you connect to a  network from which your remote backup target is reachable
Metered internet connections are now detected and not used to perform backup to remote targets
More smart way of handling retries (both in scheduler and UI)
Customizable backup destination folder
Support for rotated USB drives
Backup is automatically prevented from starting when a device is running off battery and battery level is less than 20%
Slightly improved backup performance (local data movers "talk" over shared memory, as opposed to network sockets)
Recovery Media enhancement (virtual keyboard w/multi-language layout support, USB 3.0 devices support)
From my point of view the most interesting new feature is the integration with a Veeam Backup & Replication repository, finally available in the destination choice during a backup configuration: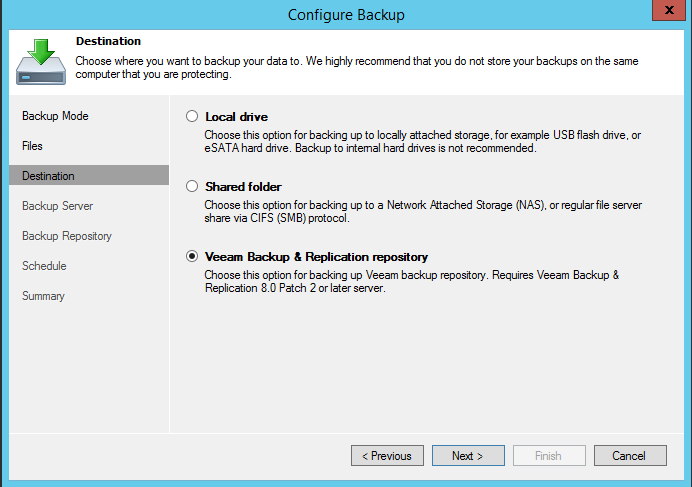 You can specify a server (using the name or the IP) and the credential that you want use (note that works also in anonymous mode, without any credential):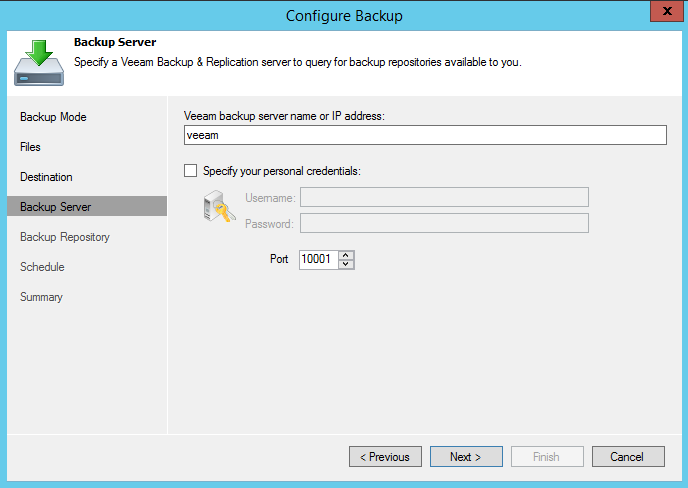 In order to enable a Veeam repository for Veeam Endpoint backup you need the Veeam Backup & Replication v8 Patch #2 RC (build 8.0.0.1274). Note that this is not a final build (probably will be released after few more weeks).
Also you need to enable your repository for the Endpoint jobs. By default only the Default Backup Repository (or maybe the first one) is enabled. Enable a repository just mean add the right permission for an external job: you can use anonymous sources (allow everyone) or simple specify users or groups: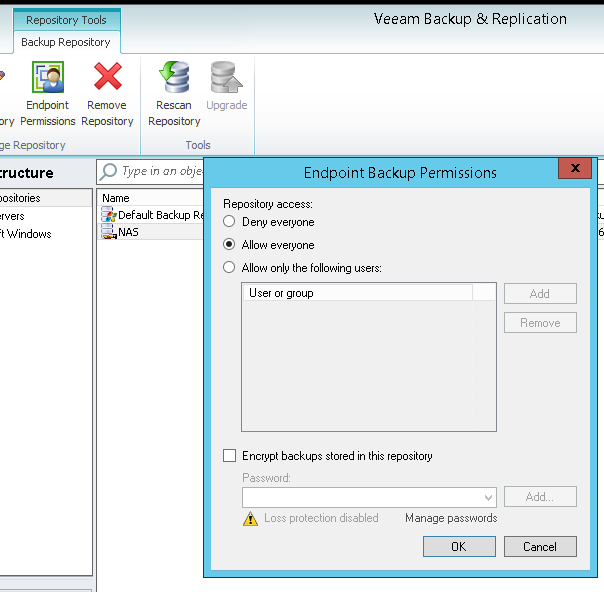 As you can notice is also possible encrypt the backups!
That's all… really simple, fast and easy… And the nice thing is that you need just a licensed Veeam Backup & Replication (potentially also without any VMware or Hyper-V infrastructure). Maybe in the future we will see a per-source license? Or some specific license for the Enpoint jobs? But for now they seems to be totally free!
With the new patch of Veeam B&R will be possible also:
Restore guest files and application items from endpoint backups
Export physical disks contents from backup into VMDK/VHD/VHDX virtual disk files
Basic monitoring and management of all incoming backups, including email notifications to B&R admins about endpoint backup status
Traffic throttling settings from Global Network Traffic Rules now apply to Veeam Endpoint Backup jobs as well
Support for endpoint backups in Backup Copy and Backup to Tape jobs
The last one is something awesome, because you can already select an Endpoint job in your Backup Copy (or Tape) job and manage as an another job!
About the restore features (from Veeam B&R) seems that they are just a work in progress: from a repository you can choose the restore options: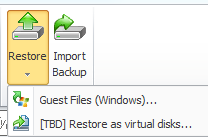 Note that the guest files works only on succesful jobs. You can select the job, the restore point, select the "VM" (yes… the endpoint is represented as a fictional VM), and then you will see the tradition Veeam Explorer… including the "Application Item" button (this mean that you can potentially have Exchange, AD, SQL application level restore also for physical systems!
The idea remain great and the restore as a virtual disk could be nice for move data from phisical to virtual. And how cool could be add a Restore a comple system image as a bootble virtual disk? Could be something really powerful for help in P2V or just manage simple system disaster recovery scenarios.