This post is also available in: Italian
Reading Time:
2
minutes
As promised (the ETA was between end of April and the beginning of May), Veeam has released the update 2 of the Veeam Availability Suite solution that add full VMware vSphere 6.0 and Veeam Enpoint Backup support (as a backup target). The patch is available on the Veeam download site.
Of course most news are related to vSphere 6.0 full support that include:
Support for VMware Virtual Volumes (VVols)
Quick Migration to VVols
Storage Policy-Based Management (SPBM) policy backup and restore
Backup and replication of Fault Tolerant (FT) VMs
vSphere 6 tags integration
Cross-vCenter vMotion awareness
Hot-Add transport mode of SATA virtual disks
Virtual SAN 6.0 support
The Veeam Endpoint backup is something similar on what described in this previous post, but now with full functions, also in the restore to VMDK or VHD/VHDX options (but remember that is still not a P2V tool).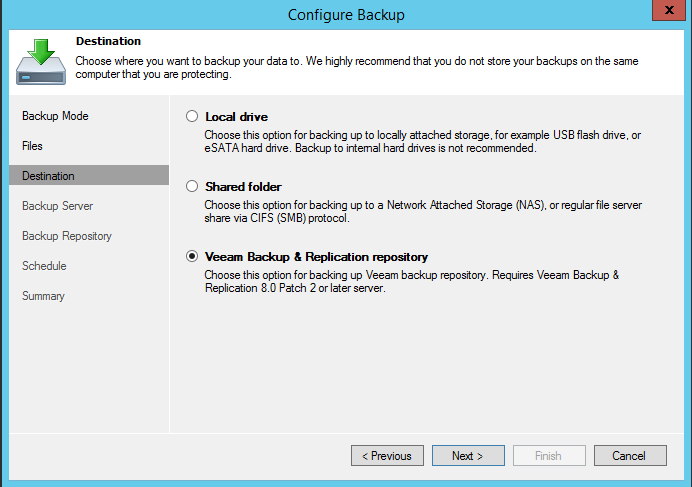 And there are also some news on Veeam ONE which brings the support to monitor everything in vSphere 6, including VVols.
But there are also a lot of other improvements that makes this patch valuable.
But note that, due to the new backup repository cache, you will have increased backup repository RAM requirements! It takes 2GB per 12TB worth of backups – so, depending on your infrastructure size, you may only see 2GB RAM consumption increase OVERALL across all jobs, and not per job.
If you do not have that extra physical RAM available? You can simply reduce your concurrent job count on the backup repository! Or you can simply disable the cache with the AgentReadOnlyCache (DWORD) = 0 registry value.
For more information see also: