This post is also available in: Italian
Reading Time:
6
minutes
VMware vCloud Air is the public cloud offer by VMware (formally known as vCloud Hybrid Service) built on the foundation of vSphere and compatible with your on-premises VMware's based data center. Actually it included several different services: infrastructure, disaster recovery, and various applications as service.
For the IaaS services there are: Dedicated Cloud, Virtual Private Cloud, Virtual Private Cloud OnDemand. For the availability services there are: Disaster Recovery and Data Protection.
I'm spending some time by testing the Virtual Private Cloud OnDemand service, with a limited time $500 service credit offer. If you are also interested there is a promotion to get $300 in service credit for your first 90 days. The limit (as also in my case) is that this will permit only to test the IaaS service and not the others.
As written vCloud Air was called vCloud Hybrid Service, but it's just a public cloud set of services, but with the same set of technologies of existing vSphere or vCloud suite based datacenters:


In this way it's possible build an hybrid cloud for using both on-prem and off-prem resources.
To use the service you have to first sign up.
I've got some issue in the account activation due to the issue described in KB 2074540 (Cannot see all your accounts in the VMware vCloud Air OnDemand Services sign up page) but after some days the support has fixed it. Seems that something need to be still improved in this part… making difficult or too much long the sign-up is not a big value.
You can manage the vCloud Air resources in different ways, but the simplest one (at least for the first time) is the web portal. After the authentication phase you will get a welcome page:

As you can see the only available service is the Virtual Private Cloud OnDemand (due to the "trial" offer).
First step is decide which location do you want to create your VMs: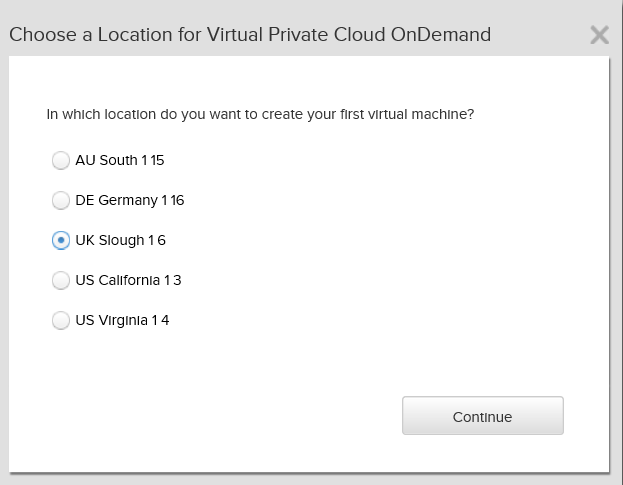 In Europe there are mainly two different locations: UK and Germany. For more information on the different locations, including how are designed, see this page.
Then you can build at least one virtual datacenter (vDC) that will be your logical VM and resources "container":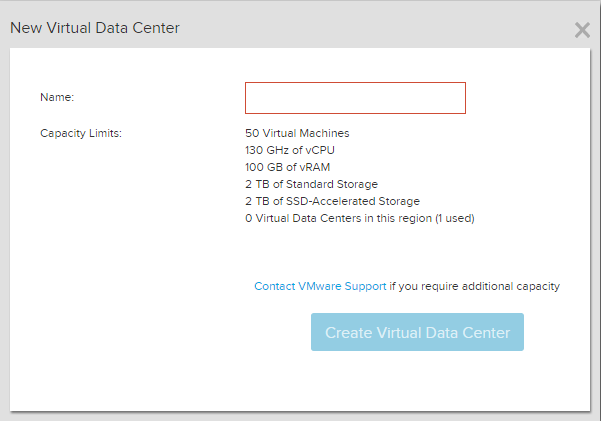 If you try to build a VM before a vDC you will got the following error: "There are no VDCs. Please add a VDC and try again to create your VM."
Note that build a vDC does automatically provide also one networks and one gateway that may be required for the VMs! By default one gateway will be deployed automatically without any public IP, in compact configuration and without High Availability, and there will be one isolated network with an internal private IP range and also with a default router (first IP) for external natted communications.
In order to make the network usable, you have to manually assing at least one public IP to your gateway and build a SNAT rule. Also you have to build a proper firewall rules (also to allow the internal interface to be pinged). From this point of view other public cloud services are build little better, but defining for each services an endpoint ready to be used… of by permitting at the user to build it during the creation of the resources.
At this point you can build your first VM: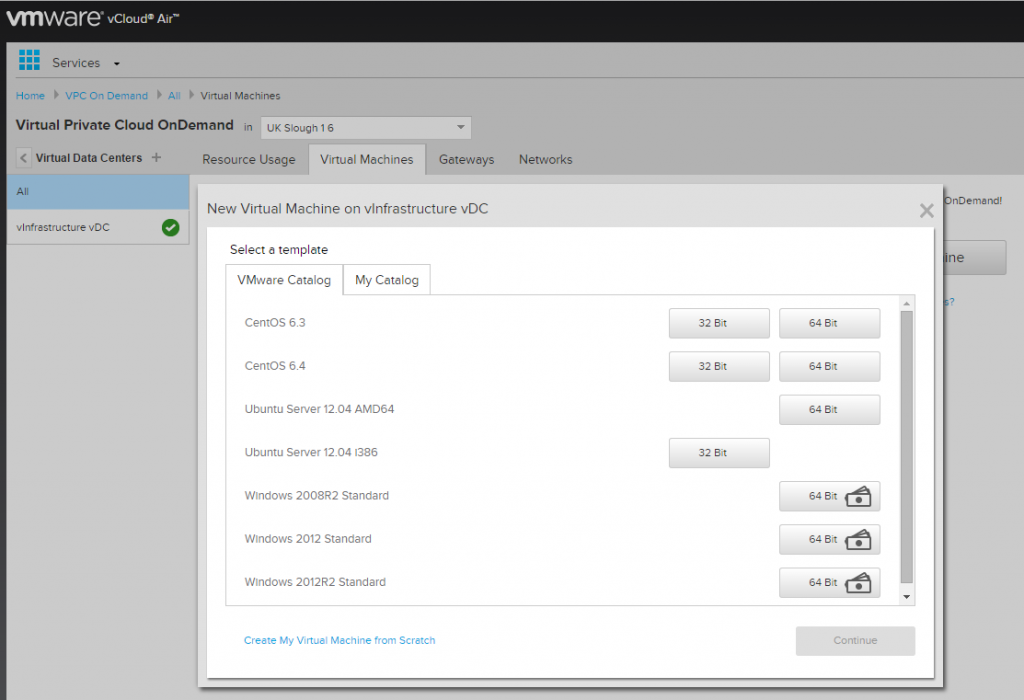 You can choose from the VMware catalog (very basic and limited, probably due to the trial mode), or build from scratch (not necessary the best or the fastest way on public cloud IaaS), or choose from your catalog. I hope that in the other IaaS services the catalogs are more bigger (and updated) otherwise the provisioning capabilities are too much limited.
There are also other options, like import or migrate an existing VM. In this case you have to use other tools, like the vCloud Connector or scripting. Note that build a VM from scratch open a limited vCloud Director interface and require more skills (you must be familiar with concepts like vCloud vApp).
But using the catalog is really fast and easy… just choose the "template" and then the desidered resources: you will also see the related cost. All in one single window.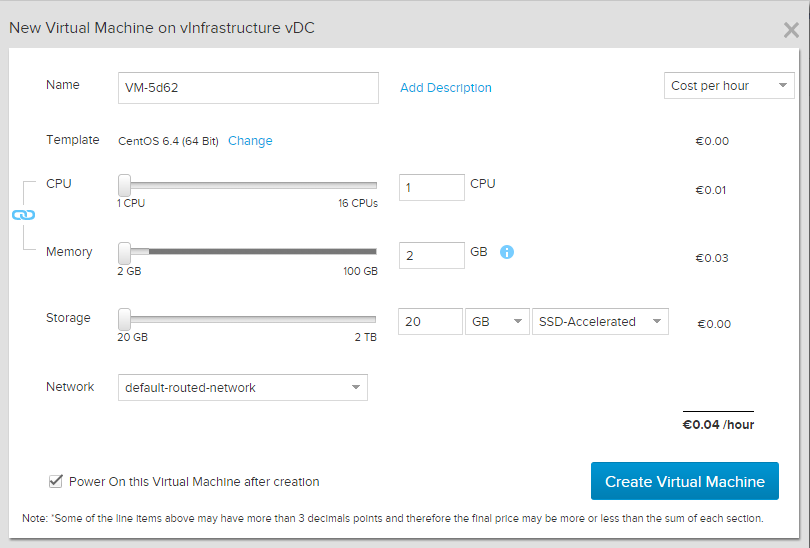 VM creation will take some times (but it's almost fast… just few minutes, depending also by the type of the virtual disk), but this is common of each public IaaS… of course this is an asynchronous operation and you can do other stuff or build other VMs.
The web based virtual machine console works almost fine (at least for text based console), but with Chome I was not able to open from the vCloud Air portal, but only from the vCloud Director interface (just click on Manage in vCloud Director and then open the console from there).
VM performance monitoring graphs are very limited in the web portal: only CPU Usage, Memory Usage, Disk Reads and Disk Writes.
In general the web portal is really simply and easy, but also limited. If you have a minimum experience with vCloud Director (as a consumer) you can found this interfarce better and more useful and for sure more powerful. From this interface you can simple set also the lease (in you are just doing some test), share a VM with other users, handle the VM customization (like choosing the VM guest OS password).
But as written there are also other tools to handle vCloud Air resources and in the future posts I will explain how use them.
But if you are interested you can simple try it by sign-up to the service.