This post is also available in: Italian
Reading Time:
3
minutes
Almost two years ago Zerto announce the availability of Zerto Virtual Replication 3.0 with a lot of enterprise-class functions for business continuity and disaster recovery for virtualized infrastructure and cloud for VMware environments and (from October 2014) also for Hyper-V environments.
With the recent announce of Zerto Virtual Replication 4.0 they are now supporting VMware vSphere, Microsoft Hyper-V and also Amazon AWS.
New features of ZVR 4.0 include:
Cross-Hypervisor Replication With Support for Hyper-V: reduces DR costs by enabling customers to integrate Microsoft Hyper-V into their VMware-based datacenters. Quick migration of workloads to new IT infrastructures improves ROI and easy replication between hypervisors helps avoid vendor lock-in.
Replicate from Private Cloud to Amazon Web Services: dramatically reduces IT capital costs and variability with a simple recurring expense, while leveraging AWS for production and on-demand resource access.
New HTML5 User Interface: one consistent and intuitive user interface simplifies workloads and management from any device. Wizard-driven virtual protection group creation ensures consistency in the BC/DR process.
The cross-hypervisor is probably the most interesting feature: with the revolutionary capability to automatically convert Hyper-V VMs to VMware and VMware VMs to Hyper- V, many possibilities are available in the datacenter. By enabling hypervisor-agnostic replication, Zerto allows replication from remote office Hyper-V instances into a central VMware datacenter, seamless migrations of workloads between hypervisors or even the ability to replicate VMs from a primary VMware datacenter to a secondary Hyper-V datacenter for recovery.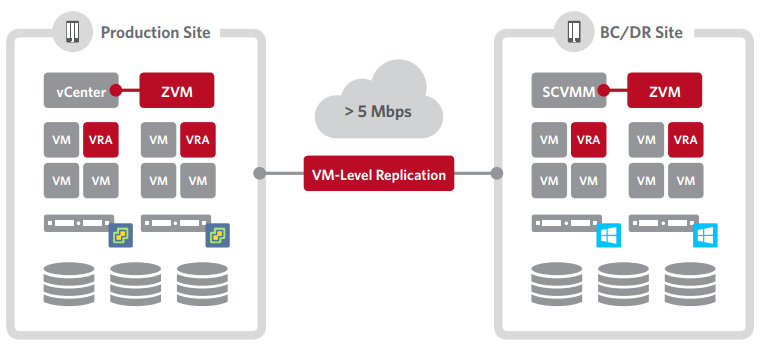 And the ability to use AWS as destination could be another value by extending Zerto's Cloud Continuity vision with consistent and continuous replication of production workloads from VMware and Microsoft environments to AWS, delivering more options for disaster recovery. By leveraging AWS for the target site, capital costs are dramatically reduced and replaced with a predictable monthly service.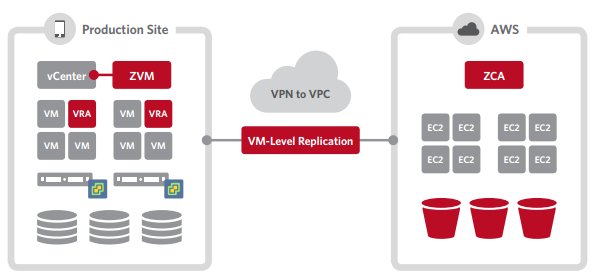 Note that Zerto works in different way compared to traditional storage based or VM based replication, especially on VMware where work much like the native vSphere Replication (at least for the way to took the data) or the EMC Recoverpoint solution, without involv any VM snapshots. For this reason VMware still does not officially support Zerto (see KB 2069900 – Support for Zerto Replication) and delegate to Zerto's support, unless Zerto suspect that the virtualization layer is the root cause of an incident; in this case the customer will contact the appropriate VMware support provider to resolve the VMware issue (see the ZeRTO Support Statement).