Reading Time:
8
minutes
Parallels is a well know company in the virtualization ecosystem and has some interesting solutions: Parallels Desktop 10 for Mac (to run Windows and other OSes on your Mac), Parallels Access (a simple remote access to your Windows or Mac computer from anywhere), Parallels Mac Management for Microsoft SCCM (able to extend your existing SCCM infrastructure to discover, enroll, and manage Mac computers the same way you do PCs, all through a single pane of glass), all 2X Software solutions and products (Parallels has acquired this company on Feb 2015) and Odin (formally the cloud service called Parallels Service Provider Business).
If you have a Mac, probably it's a vendor that you have to consider for their solutions and products.
And if you want to use system virtualization locally on your Mac, then Parallels Desktop it's a good option. Not the only one (for example there is also VMware Fusion), but quite interesting and almost cheap (or comparable with other solutions).
The main user case could be run Windows environments in a MacOSX system. Of course you can use the native Boot Camp function instead of a system virtualziation products: in this way you can have a native OS, but you loose the flexibility of switch between multiple systems, because it's almost a dual boot functions (for more information see how Parallels is better than the simple Boot Camp).
With a system virtualization solution you can run multiple VMs with different OSes and different versions of a same OS, more flexible and usable:
So can be useful not only to run Windows environments but also other OSes and testing, devel and (self-)training become other common user cases. Parallels Desktop support a wide array of operating systems including OS X Mavericks, Windows 8.1 & 7, Linux and Google Chrome means you can do just about anything on your Mac. Including Windows 10 previews or hypervisors, like VMware ESXi 6.0.
The new version 10 brings several improvements and new features:
Yosemite in a Virtual Machine: Run OS X Yosemite as a guest with ease.
1-click tuning: One click and we will automatically set your virtual machine settings for optimal performance based on what you do most.
Real-time virtual disk optimization: Your virtual disk is automatically compacted while you work, so it takes only as much space on your hard disk as it really needs.
Mac Memory Management: Virtual machines use 10% less Mac memory!
Battery Life: Now extended by up to 30%!
Windows Documents: Now open 48% faster!
Windows apps added to Launchpad: As you install Windows apps, we automatically add them to Launchpad.
Mac native "Save to" in Windows: "Save as" in Microsoft Office 2013 applications to Dropbox, Google Drive, and iCloud Drive (when Yosemite is available) if they are set up on your Mac.
Mac native "Share" from Windows: "Share" files, text or web-pages from Windows using Internet accounts configured on your Mac. Post on Twitter, Facebook, etc., send via email, AirDrop, and Messages.
iMessage from Windows: Right click on selected text and select "Share with iMessage".  The text will be sent with iMessage, and if the recipient isn't using iMessage, it will send via SMS using your iPhone.
iCloud Drive Support: In Microsoft Office, you can 'Save as" to your iCloud Drive.
Click to Call: Right click on a phone number in Outlook or Internet Explorer to place a call with your iPhone.
And more…
As you can see there are a lot of integration between the UI of MacOSX (or its features and functions) and the Windows UI (some are really useful, like the launchpad integration). Also the behavior or Save or Send are seamless. Same for switching between a VM (when running Windows in full screen) and your OS X environment that is the same as switching between desktops on your Mac: swiping to the side with three fingers moves you over, or you can swipe up with three fingers and access all of your desktops.
But the news of version 10 are not only in the UI: there are also some relevant improvements in speed and performance. Parallels Desktop runs notably faster when opening Windows or starting Windows apps and try to adapt the hardware at the best: for example the USB 3.0 hardware on your Mac's USB port will be treat as a virtual USB 3.0 port.
Also, Parallels Desktop includes a background-optimization feature that clears out unused disk space while you work. And you can optimize your Windows VM depending by the purpose of it:
With VMs using Windows 8.1, Parallels Desktop seems faster than Fusion (with the same virtual hardware configuration), for Windows 10 actually they are almost the same.
Requirements are not so high, but of course you will need more RAM (and other resources) if you plan to run several VMs. Of if you plan to build huge VM, considering that you can have support for 16vCPUs and 64 GB of RAM!
Hardware:
A Mac computer with an Intel Core 2 Duo, Core i3, Core i5, Core i7, or Xeon processor (Core Solo and Core Duo processors are no longer supported)
Minimum 2 GB of memory (4 GB of memory is recommended to run Windows 7 in a virtual machine or if your host OS is Lion)
About 850 MB of disk space on the boot volume (Macintosh HD) for Parallels Desktop installation
About 15 GB of disk space for each virtual machine
Software:
OS X Yosemite 10.10 or later
OS X Mavericks 10.9.4 or later
Mac OS X Mountain Lion 10.8.5 or later
Mac OS X Lion 10.7.5 or later
Installation of the product and VM creation are really easy and simple. You can build a new VM using a CD, DVD or image file (ISO on an exteral HD or USB), or you can use the Parallels Transporter Agent to migrate Windows from another PC.
Anyway the installation process of a new guest is really easy, in this example Windows 10 is installed:
In any case virtual hardware configuration is guided and assisted by wizard:
Parallels Desktop can use either virtual hard disks or Boot Camp partitions as virtual machine hard disks. Starting from version 4 the format of virtual disks has changed, but it support both the plain (a static pre-allocated model) or the expainding (a dynamically growable disk) types. In the second case you can also reclaim the space from the general view of your VM settings.
Virtual hardware settings can be detailed in the hardware tab, with lot of settings: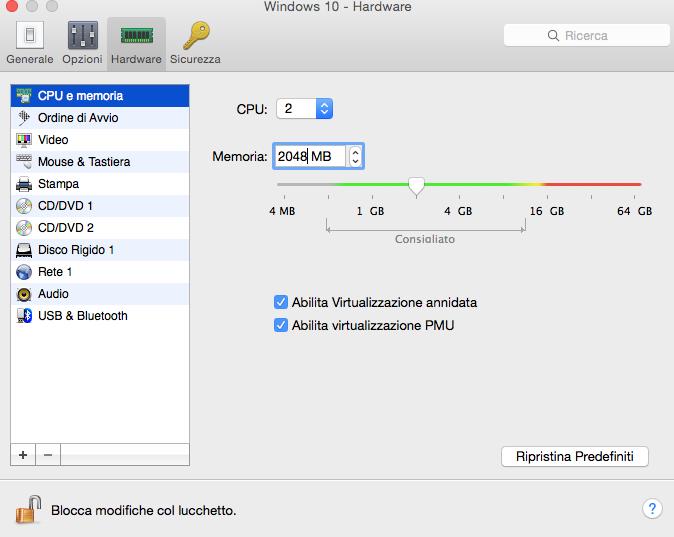 With Parallels Desktop, you can also run games and applications that require video cards with DirectX or OpenGL support in your virtual machines.
The

 

DirectX10.1

 

and

 

OpenGL2.1

 

support can be enabled for

 

Windows-based

 

virtual machines with Parallels Tools installed.
The

 

OpenGL2.1

 

support can be enabled for

 

Linux-based

 

virtual machines with Parallels Tools installed.
Actually there is no support for No support for DirectX 11 or OpenGL 3.2
But note that many MacBooks don't come with a dedicated GPU, so you might find that, even with a high-end model, gaming isn't a perfect experience.
As you can notice in the previous image, it's also possible to enable nested hardware virtualization support, that means be able to run a nested hypervisor. Both ESXi 5.x and 6.0 works fine (little slower compared to Fusion), but remember to change the virtual NIC adapter to Intel Pro (to emulate a supported NIC). For more information see this post.
Starting from Parallels Desktop 8, it provides nested virtualization support that allows you to run Hyper-V virtual machines inside Windows 8 andWindows Server 2012 virtual machines.
Finally there is an interesting features called Paralles Access for iPad that is a remote control services, in order to manage your VMs directly from an iPad. This is quite interesting and nice, but actually works more like a remote control of your Mac rather then the single VMs. Antway it's well optimized for network traffic and can work fine also on 3G networks. Note that it require a registration on Paralles cloud services.