This post is also available in: Italian
Reading Time:
2
minutes
One old (and now quite not used anymore) storage concept was about the Frame vs. frame-less architectures.
Those terms are from the past decades and where used (especially from Dell-EqualLogic) to identify how storage controllers are dedigned and how they can scale:
Frame-based storage contain individual components that scale independently (you can add more cache, network connections, disks, software, etc.) until it's maxiums and until the product is still supported. Usually you have two storage controllers and one ore more shelves of disks.
Frame-less storage is modular where each "module" include it's own storage processors, cache and network connections AND also the disks set. To add additional storage in the future, you simply buy another "brick" which includes a small set of all the components.
This kind of concept match almost the scale-in (or scale-up) and scale-out models: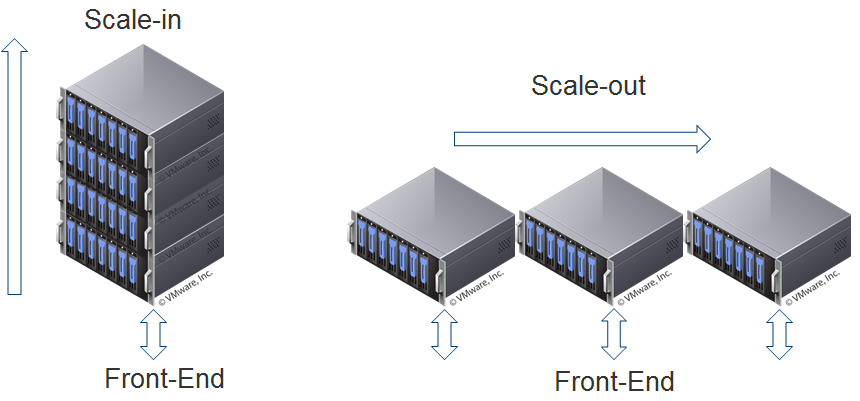 Where the scale-in it's a frame bases storage and the scale-out it's a frame-less storage.
The main difference remain not on how they scale but on and how they can provide availability: in a scale-out storage we are expecting some kind of data redoundancy across the different modules to avoid issues if you fail a single module. In a frame-less architecture, this aspect is not considered and just only the scaling aspect and the single pain of glass on how you access the entire storage.
Actually most of the frame-less storage are also scale-out storage with high availability across the different frames, but still there are some storage without this kind of resilency, or at least without an automatic recovery (see for example Dell-EqualLogic with Sync-Repl where you can have data protection across members, but the fail-over is not automatically!)
See also: Frame vs. Frame-LESS SAN Architectures.