This post is also available in: Italian
Reading Time:
6
minutes
VMware vCloud Air is the public cloud offer from VMware (formally known as vCloud Hybrid Service) built on the foundation of vSphere and compatible with your on-premises VMware's based data center. Actually it included several different services: infrastructure, disaster recovery, and various applications as service.
Usually it has a dedicated web portal for manage all the related resources. But you can manage VMware vCloud Air with other tools, including VMware Workstation 11 (in this case with several limitations). Or vCenter Server.
If you want to see your vCloud resources from your vCenter instance, the solution is vCloud Connector that is now a free product, where the core and advanced editions have been converged as one single product in the 2.6 version of vCloud Connector.
Unfortunately is still something not so easy or light because your need at least a vCloud Connector Server and one vCloud Connector node for each cloud that you want to manage and see from vCloud Connector:

So for vCloud Air you have to deploy on prem three different VA: the Server part (that is also a dedicated OVF) and two nodes, one that will connect to your vCenter Server and one that will connect to the vCloud Air part. At least you don't need nothing on the vCloud Air part because your second node will be the "connector" to the public API of vCloud Air.
The vCloud Connector server and vCloud Connector node are packaged as virtual appliances. The VA deploy is quite easy and you have to specify only the IP address (or leave blank for DHCP configuration). Each appliance is based on a SuSE Linux Enterprise 11 (64 bit) and it's configured with 4 GB of RAM and 4 vCPU! Provisioned storage will be larger for nodes that have a second vmdk with 40 GB.
After the VA deployment you have to configure all of them. The installation guide (see the Installing vCloud Connector part) will provide all the required information. Your have to connect on each appliance to the https://VA-IP:5480 URL (common for most virtual appliances) and configurare at least the node tab (the default credential both of server and nodes is simple admin/vmware).
First configure each node. For the vSphere connected node you have only to specify the URL for your vCenter Server: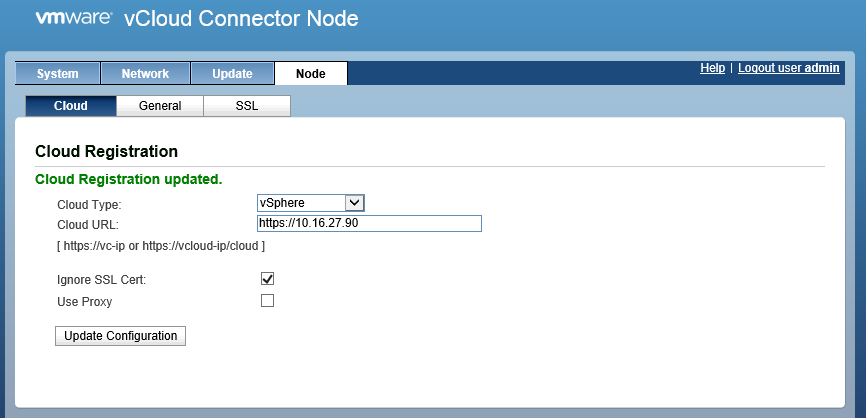 For the vCloud Air connected node this can be little more complicated because you need the vCloud Director URL (the cloud will be a vCloud Director type).
Note that for Virtual Private Cloud OnDemand the process for setting up vCloud Connector follows the same high-level process as installing vCloud Connector for vCloud Air. As part of the process, you are required to register the vCloud Air vCC Node with the vCloud Connector Server.
But the Virtual Private Cloud OnDemand URLs are unique for each vCloud Air location. Use the following table to obtain the URLs. At this time, VMware does provide this information only on this page.
URLs for the V

irtual Private Cloud OnDemand

Locations

| | | |
| --- | --- | --- |
| Slough (UK) | | 80.169.90.93 |
| Virginia (USA) | | 205.218.49.123 |
| Santa Clara (California, USA) | | 216.136.198.80 |
| Germany | | 185.45.161.27 |
| Australia | | 144.130.48.27 |
Ensure that vCenter Server, the vCenter Server Node, and the vCloud Connector Node can reach the Virtual Private Cloud OnDemand locations (public cloud) on port 8443.
So for the UK datacenter will be something similar (in this example is selected to ignore the SSL cert, but for the public cloud is better to don't do this):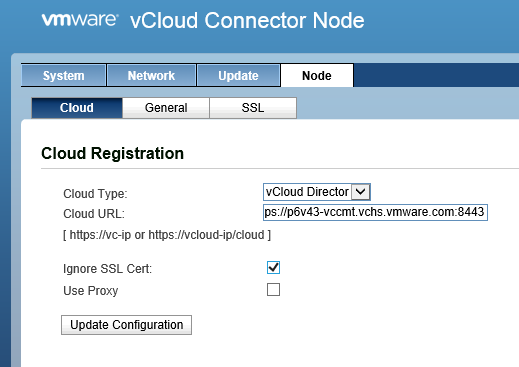 For more inormation see how to Register vCloud Air vCC Node with vCloud Connector Server.
Then you have to configure the Server VA where you need to specify your vCenter Server and register the appliance to it: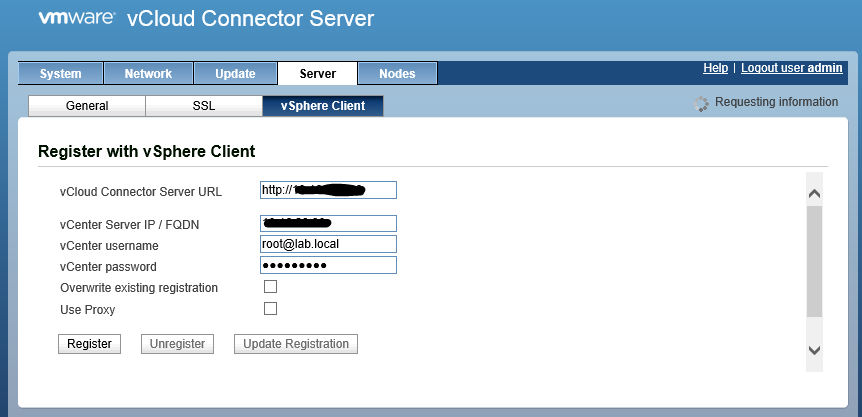 Also you need to configure each node, starting from the vSphere one: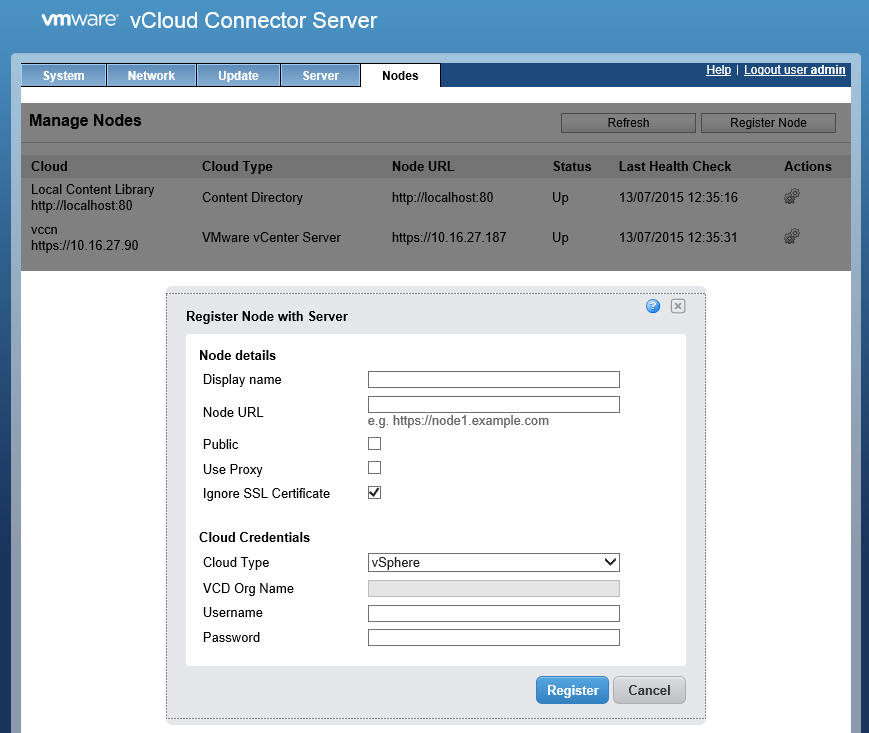 An then the vCloud Air one, that is again more complicated because you have to specify the vCD organization name and you cannot use (at least for me does not work) the symbolic name. You need to find the UUID name from the vCloud Director management interface and use this number:
At this point you can use the vCenter plugin and manage your clouds from it: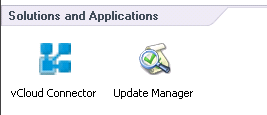 Note that it's a plugin for the legacy vSphere Client, but it works well also on vSphere 6.0. The plugin will require again the autentication for each cloud.
And please not that the refresh is not automatical (in some case could be better close the vSphere Client and re-open again).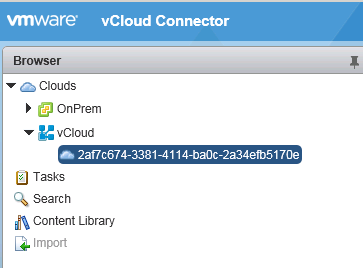 VMware vCloud Connector is still limited: you can manage templates, vApps and Virtual Machines but only with few actions, like copy between the clouds, deploy or delete them.
Each operation must be first validated, then you can press finish to start it.
Note that you cannot move live VMs or vApps between clouds: also if this is technically possible with vSphere 6 and the new vMotion, this is still not possible to vCloud Air.
That's all folks? Not really because an important part is completly missing! What about the networking across the two clouds?
You cannot manage from vCloud Connector (that is not a network connector), but you have to manage external. The guide suggest how using Stretch Deploy (Datacenter Extension) but it require a local vCloud Director instance (at least the vCloud Network & Security part or potentially a NSX deployment).
But why don't integrate directly in the vCloud Connector using for example an SSL VPN L2 solutions (that is available in NSX)? In this way vCloud Air can be connected in a simple way to your on-prem infrastructure.