Reading Time:
3
minutes
Tintri, a producer of VM-aware storage (VAS) for virtualization and cloud environments, has announced the release of the Tintri VMstoreTM T5000 All-Flash series. The VMstore T5000 joins the T800 Hybrid-Flash series to create a portfolio of VM-aware storage platforms that offer enterprises and service providers their choice of storage, hypervisor and packaging to best meet their needs. Powered by the same Tintri OS and real time VM-level analytics, the new products will enable customers to easily optimize virtualized workloads across the T5000 and T800 systems.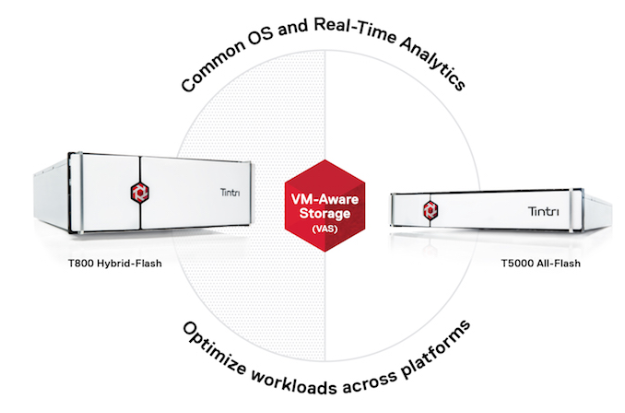 The Tintri VMstore T5000 All-Flash series includes two models—the VMstore T5060 and T5080 can store up to 5,000 VMs in a 2U form factor and up to 100,000 virtual machines, 1.4PB of data and 4 million IOPS in a single rack. The series is designed for very large database farms, analytics workloads and large persistent virtual desktops, which demand predictable, high throughput and sub-millisecond latency across their entire multi-terabyte capacity.
What does mean VM-aware for Tintri? That means you never manage LUNs and volumes, only what matters to your organization—virtual machines. Take every storage action (clone, replicate, snapshot, set QoS and analyze) at the VM level and keep storage simple.
With the new product announcement there are also additional new features:
Tintri OS 4.0 provides a single OS for both the T5000 and T800 platforms.
Tintri Global Center (TGC) 2.1 manages and provides actionable real time VM-level analytics for more than 100,000 virtual machines. TGC 2.1 extends ease of management and analytics capabilities to mixed Tintri VMstore All-Flash and Hybrid-Flash environments by identifying "flash-hungry" VMs and enables administrators to move the workloads to a Tintri All-Flash system. It is capable of not only dynamically assigning service group policies for data protection and quality of service but also seamlessly transferring and retaining the same service group settings when a VM is moved to another VMstore.
Tintri VMstack™ Converged Infrastructure is the industry's first VM-aware converged solution providing customers the choice of Hybrid-Flash or All-Flash storage, multiple hypervisors, compute and network. Select Tintri partners including 5S, Groupware, nfrastructure, P1 Technologies, RediCloud- a division of Axispoint, and Virtual Armor will offer pre-qualified, integrated solutions designed for specific use cases such as VDI, high performance enterprise applications and private cloud.
The existing T800 Hybrid-Flash series will continue to support enterprises seeking the optimum balance of all flash performance and value with the same VM-aware capabilities as the T5000. With 99 percent of storage IO from flash, the T800 series is the ideal platform for most server virtualization, VDI, private cloud and test and development use cases.
And if you are attending at VMworld US, you may be interested to the Tintricity event: a free (yes free, quite uncommon) user conference organized by Trintri. For more information see the Tintricity event page.