This post is also available in: Italian
Reading Time:
9
minutes
The VMworld US edition is finished some weeks ago and there are just four weeks until the European edition of VMworld 2015! Although those two edition are too close there are still lot of difference in the contents and in the events themselves.
The European edition remain one of biggest event in EMEA and a must, especially if you have lost the US edition. This year I've followed also the US edition, so that I can make a comparison between them. And anyway, I've attend at all the EU editions and was a pity miss one of them.
I've explain why attend at this event (reason remain just the same from previous year), but if you need more reasons you can also watch this video.
If you choose to attend at the VMword EU, here are some (I hope useful) information (most remain similar as in the previous year).
Event location

No change from the previous years: this even is in the new Barcelona Fira center, called "Fira Gran Via" and quite far from the "old" one.
The complete address of the Fira Gran Via is:
Fira Barcelona Gran Via – North Entrance – Hall 8
Carrer del Foc 30 – 08038 Barcelona
See the map of the fira area
There are no shuttles between the hotels and the Fira Gran Via. But like past edition there will be a shuttle service that runs on a loop between the Fira Europa metro station (L8 – Europa Fira) and the North Entrance of the Fira Gran Via. This service will be available every day of the conference. Otherwise you have to plan a 10 minutes walk.
Note that vendor's events or parties will not necessary be in the VMworld location (except the VMworld party and few others that are in the same place, like in past events).
Note that also VMworld EU 2016 will be in the same place (October 17-20).
When
Event is from Monday (if you are a partner) to Thusday. Plan your days depends by you and your, your time and your flight options. Usually could be nice arrive for Sunday afternoon to attend also at the extra-events (don't miss the vRockstar party on Sun evening). For leave the show I prefer the Thu afternoon, considering that the last day the event is limited only in the morning.
For me, due to some conflicts in my agenda, this edition will be shorter: only from Mon morning to Thu morning.
What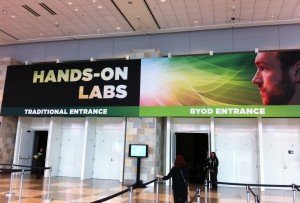 Check really well the content catalog to plan your days. Session could be really important (but if you are a vExpert you can look at the US edition before to find which could be more interesting).
In the past Hands on Labs were usually a must, but there can be a long waiting queues (unless you go on Monday) and now most of them are also available with the on-line version. Like happened in the the US edition probably there will the CloudCred team with specific tasks and lot of rich prizes.
The best way to spend your time is in the community area to talk with other people and watch some community events, like the #vBrownbag TechTalks.
And also spend your time with partners and sponsor to see some vendor's technologies and maybe some related events.
Exam could be another opportunity: if you miss some exam, here you can have a 50% discount! But there aren't yet the new VCIX exams, so for me no exam at VMworld EU.
And don't miss the VMworld Europe Hackathon: the one in the US edition was really good!
How arrive
Flight will be probably the best way. For US people the VMworld site suggest some options. Please note that there are 3 airports:
Barcelona El-Prat: this is really close to the event and also served by a shuttle (see next)
Barcelona Girona: 1 hour far from Barcelona. There is a bus from the Girona's airport to the Barcelona's

 

bus station. Note that Girona it's also a nice city to visit if you have some spare hours.
Reus: really far from Barcelona
If you arrive at El-Prat airport you can found a a shuttle service offered to attendees from the airport to VMworld 2015 and from the Europa Fira Metro station to VMworld 2015. Look for the VMworld 2015 sign on arrival. The shuttle drop off/pick up location is Fira Gran Via, North Entrance, Hall 8. Airport shuttle hours are:
Sunday 11 October 16.00 – 20.00
Monday 12 October 10.00 – 20.00
Thursday 15 October 12.00 – 18.00 (for the return)
Where to stay
There is a list of suggested hotels and when you register online for VMworld 2015, you will have an opportunity to request your hotel, check-in and check-out dates, and provide your credit card information. A hotel reservation will be made for you and guaranteed with your credit card.
But I prefer book by myselft and choose something close to the downtown (for the evening) that could also be more cheaper. I you booking.com, but other similar services could help you at the same way. And have a look also at possible offers when you book your flight tickets.
Position could be important, but close to downtown could make easy attend the post-event parties. And in my opinion is better close to a underground station rather than the fira area (that does not offer too much in the evening).
Transportation
As written the VMworld area is almost close to El Prat airport… Exactly like previous years there will be a shuttle service that runs on a loop between the Fira Europa metro station and the North Entrance of the Fira Gran Via (this service will be available every day of the conference).
The first metro station is almost close (L8 – Europa Fira) and maybe there will be same ticket option of last year (10 rides pass).
Note that downton and the VMworld area is all in the zone 1. So common TMB tickets or the Tourist Card (but seems much more expensive) could be fine. Also note that L8 is still a "separated" line from other underground lines: this mean that you need a pass every time you get it (like if you go outside the underground and try to get it back).
For more information about the transport routes, see also Transportation at VMworld Barcelona 2014 (or, althought referred to previous year: this post or this other one or this other one). There is also an updated metro map (Jan 2014).
Logistic
Some hint are probably obvious but still important: dress confortable, plan to walk a lot (fira area is not the best from the logistic point of view), consider that you can collect some extra shirts and gadgets (so plan extra space in your luggages, considering also the flight companies restriction), weather could be warm (but check forecast before leave), wi-fi exitist but will be not necessary so good (past years sometimes was really bad), lunch and refreshments will be provided daily (past years there was also breakfast, and I guess will be be same also this year).
Considering also that you will return with a new backpack (this year is really good), so additional space to consider:
If you are a recurring attendee, remember that there is also the Alumni program.
Social Media
Party
See those two links
And don't miss the VMUG party that is usually great!
For the sponsors parties, I probably will attend at the Veeam one.
Visit the city
Do you have some spare time? You haven't see the city? Could be a good idea… but first to all remember that there are several thieves… so be careful on metro, and places with lot of people (like La Rambla). Is not too much worst compared to other cities… just play attention.
And what you could visit? Here is an idea of 20 places.
I suggest to visit (also inside) the Sagrada Familia, and see (at least from the outside) Casa Miro and Casa Batllo (both are quite close each other). The Barri Gotic is another must and could be better in the late afternoon (also for a dinner), where you can spend some time also on La Rambla and Plaza Reial that define the west border of the area.
Museum and other places like Park Güell and Montjuïc area or also Tibidabo could be great, but they require more time and you have to make a good planning.
If you are curios those are some of pictures that I've taken in Barcelona:

Finally just a note about safety in Barcelona: please be vigilant, especially in busy areas, and ensure you protect your personal belongings and keep luggage with you at all times, even when checking into your hotel. We kindly ask that you remove your VMworld badge when you are out enjoying Barcelona, so you don't draw unwanted attention to yourself as a non-local….
See also