This post is also available in: Italian
Reading Time:
4
minutes
The big news from the European VMworld event was something external to the VMworld event, but with some possible impacts on VMware (and of course for VMworld).
Dell is going to acquire EMC for around $67 billion!
According to the press release, the deal looks like this:
Under the terms of the agreement, EMC shareholders will receive $24.05 per share in cash in addition to tracking stock linked to a portion of EMC's economic interest in the VMware business.
Dell has bought a lot of companies in the past (like Quest, SonicWall, Compellent, EqualLogic, Force10, Ocarina, …) but they finish the acquisitions around two years ago and after that they went private.
Now they are trying the big deal with an hystorical partner (in the past there were EMC-Dell Clariion).
The move seems strange, because in the midsize market there is a lot of overlap and also because it will take a lot of time to integrate the solutions in a common portfolio. To a a single Dell Storage portfolio based on Compellent technology more than 4 years were needed (now there is the SCv2000 for the small, the SC4020 for the medium and the SC8000 and soon the SC9000 for the large environments).
And what about the backup programs: Dell has AppAssure, NetVault and vRanger that are still not integrated. What can appen by adding Amavar and EMC Legato Networker?
But more important what can happen to VMware and other controlled companies (like Pivotal)? At the first VMworld EU general session there was a video recording from Michael Dell that confirm the idea to keep VMware public (and maybe also independed). Maybe a good bid could be acquire EMC to then resell some stocks of VMware.
A risk could be that only part of EMC are considered interesting (like VNX or ExtremeIO) and other parts can be sold out?
For sure some possible reasons of this acquisition are to reach new customers (it's not so easy move a customer from a storage solution to another) and try to have high level solutions.

Also, some existing partnership can change due to the new ownership: what will be the future of VCE (partnership between VMware, Cisco and EMC)? Will become VDE (VMware, Dell-EMC)?
Probably next Dell World (next month) will reveal more.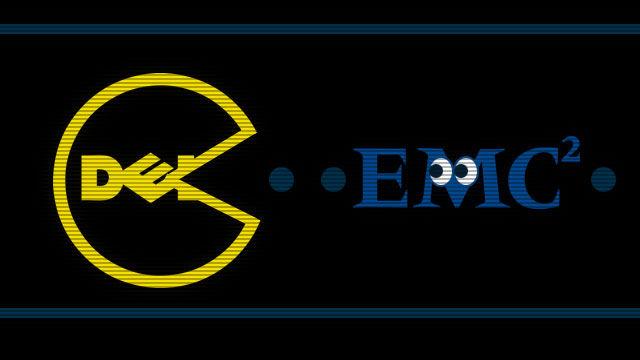 See also: