Reading Time:
4
minutes
Atlantis Computing has announced the HyperScale CX-4 product targeted for distributed datacenters and also the ROBO (Remote Office/Branch Office) scenarios.
The CX-4 appliance is a two-node hyperconverged integrated system with compute, all-flash storage, networking and virtualization designed for ROBO and micro data centers.
The hardware configuration include two nodes with 4 TB of effective storage capacity and 48 compute cores in a compact 2U footprint, available with different appliances brads: Atlantis (with Supermicro hardware), Dell (with the support of the FX2 platform), HP, Lenovo and Cisco (this partnership was added during the last VMworld):

You can choose a prebuild appliance, but seems also possible build your own SDS based branch office with your hardware or appliance (unless they are supported by VMware and Atlantis). But of course the easiest solution is adopt a pre-build appliance.
The new HyperScale product enables IT organizations to meet all the infrastructure requirements of their remote sites, simplify operations, cut costs and ensure that all critical data remains safely backed up to a central site. For sure represent more attention on the ROBO case that it's not well managed with traditional solutions.
Some interesting aspects of this solution are:
Direct-connect 10Gbe Networking: only a dual uplink ports is required without the need of external 10 Gbps switches (quite uncommon on ROBO).
The appliance came with pre-configured IP addresses at factory to make it faster to deploy.
It also comes with virtual management and storage networking pre-configured!
Of course you can central manage all the distributed appliances from the main HQ without the need of a specific appliance required at central site.
Another interesting aspect is that several features are included in this product also, so, for example, you can use Atlantis replication to the central site (in this case you need not only the managed console, but also an Atlantis SDS or appliance in the main site):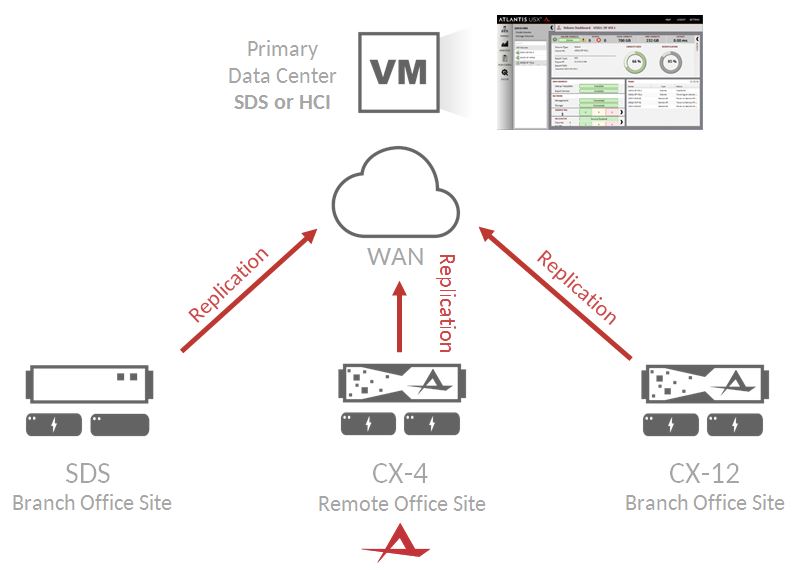 As you can notice in this image, the CX-4 is compatible with other Atlantis product, like the CX-12 appliance. Not only in the replication topology, but also in scale-out topology: you can combine CX-4 with CX-12 in a single site to increase the capabilities of storage and computing (in this case I suppose that you loose the advantage of the "internal" 10 Gbps connection of the CX-4).
The starting price of the Atlantis/Supermicro HyperScale CX-4 appliance is $43,000 (list price) for a two-node configuration (including 3 yrs. of 24×7 support), that seems high for a ROBO. Atlantis declare that this is the most affordable hyperconverged appliance on the market and includes data protection, high availability and disaster recovery capabilities at no additional cost. Yes, a lot of features and a full appliance (including both storage and computing), but still (IMHO) a little too costly for some ROBO.
One reason is also related to the choise of provide only an all-flash solution for CX-4, to preserves upgrade option for CX-12, but also because Atlantis declare a minimal incremental saving by changing to hybrid (~5%). Again, this could interesting for several ROBO, but not for all.
Another Atlantis announce is the availability of all models on the Dell PowerEdge FX2 server platform: Dell is teaming with Atlantis to provide the entire line of Atlantis HyperScale all-flash hyperconverged appliances on their PowerEdge FX2 platform.
Atlantis HyperScale CX-4, CX-12 and CX-24 appliances are now available on Dell servers through Dell distributors and channel partners in the U.S., Europe and Middle East, shipped directly to customers.