This post is also available in: Italian
Reading Time:
3
minutes
As announced some months ago, the new Virtual SAN (VSAN 6.2) will add new data services making this solution more rich that before. Version 6.1 was announced during the last VMworld editions with some interesting features, including a ROBO scenario.
But was still limited in data service: better snapshot technologies, better VMFS, but still some limits and no deduplication, no compression, no erasure coding at all.
Virtual SAN is a software-defined storage build by VMware inside ESXi, optimized for VMs, with and hypervisor-converged architecture (it runs on any certified standard x64 server) that delivers enterprise-level scalability and performance, managed through per-VM storage policies. One of its strenghs is that is deeply integrated with the VMware stack and it's really easy to set-up and use.
Starting from version 6.0 (formally v2.0) it can also use all-flash configuration and not only the hybrid one: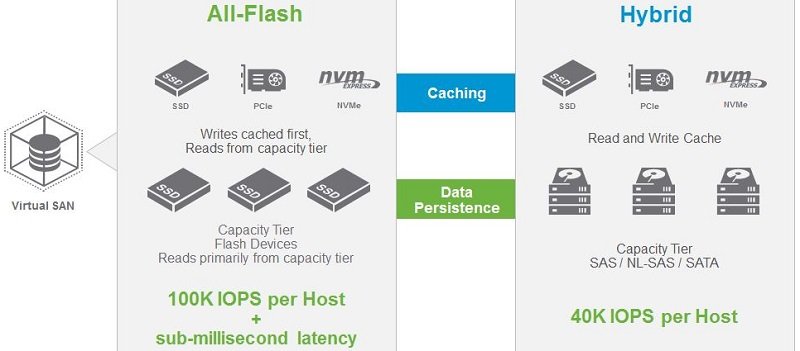 Now with version 6.2 (the 4th Generation of Virtual SAN) it adds a lot of interesting services: deduplication, compression, Erasure Coding (similar to RAID 5/6 across the nodes), better health service with integrated monitoring and Quality of Service (QoS).
Deduplication and compression could be used to increase space efficiency, but note that will be available only for all-flash configuration. There will be a nearline deduplication and compression per disk group level (called "Space Efficiency") using fixed block length deduplication (4KB Blocks).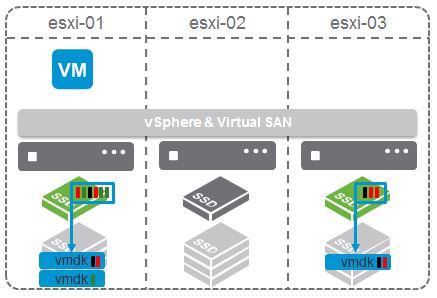 Also erasure coding will be available only for the all-flash configuration and can work with
"FTT=1" availability (similar to a RAID-5) with a 3+1 configuration (4 host minimum). This mean 1.33x overhead instead of 2x overhead!
"FTT=2" availability (similar to a RAID-6) with a 4+2 configuration (6 host minimum). This mean 1.5x instead of 3x overhead, but a dual redundacy!
Both ideas are good, but having them only for the all-flash configuration could be a limit and at least compression could (in my opinion) be extended to the hybrid model.
To increase the healt of the data a new software checksum function has been added: it provide end-to-end checksum of the data to detect and resolve silent disk errors, enabled by default as a cluster wide setting. This permit the automatic detection and resolution of silent disk errors and to fetch the data from another copy in case of checksum verification failures. On a storage, the healt of the data is a critical aspect and have good feature like this is very important.
Other improvement are also interesting, like the support for a pure IPv6 (to simplify IP assigment, or to move to the v6), the new performance and capacity monitoring (finally a useful way to measure storage main metrics).
And, of course, the QoS that permit to have a complete visibility into IOPS consumed per VM/Virtual Disk in order to Manage performance SLAs and eliminate noisy neighbor issues.
Can this new version compete with storage vendor offers both in hybrid and AFA storage market?