Reading Time:
3
minutes
Cohesity announced its hybrid cloud strategy that empowers customers to leverage the cost efficiency and agility of cloud infrastructure.
Cohesity Hyperconverged secondary storage is a unified, intelligent storage platform designed from day one to integrate seamlessly with public and private cloud services, and enables organizations, but the public cloud integration was still limited also in v2 of its data platform with just an archival tier connected to Google Cloud Storage™, Microsoft Azure and Amazon S3 and OpenStack.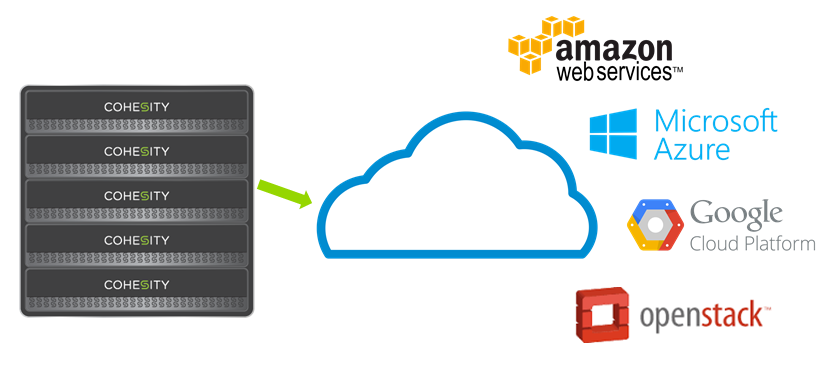 Now Cohesity's hybrid cloud strategy delivers a complete approach that allows enterprises to continue to realize benefits as they gradually migrate more operations and data to the cloud, through three main features:
Cohesity CloudArchive: Made available in Cohesity's latest platform upgrade, CloudArchive gives customers the option to seamlessly archive datasets for extended retention from the Cohesity Data Platform through pre-built integrations with Google Nearline, Microsoft Azure and Amazon S3, Glacier.  Cohesity CloudArchive is a more cost-effective archiving alternative than copying data to local media and then transporting it to a secure, remote location for long-term retention.

Cohesity CloudTier: Also available now, CloudTier gives customers the power to use public cloud as an extension of their on-premise storage.  It dynamically increases local storage capacity, by moving seldom-accessed data blocks into the cloud. The policy-based waterfall model delivers transparent cloud tiering managed from the Cohesity Data Platform console so that end users no longer have to worry about exceeding on-premise capacity during temporary or seasonal demand spikes.

Cohestiy CloudReplicate: With the CloudReplicate feature, customers can replicate local storage instances to remote public or private cloud services.  Businesses benefit by obtaining a low-cost disaster recovery solution for their on-premise installations. This feature will be released for production use later this year.

This integration between local and public cloud resource make the Cohesity platform more interesting for the archiving purpose or all cases with several cold data or data that can become cold, but needs to be avalable sometimes. Could be interesting see if next features and release will increase the data protection features or other users cases of this kind of platform.
To learn about Cohesity's hybrid cloud solutions see this short demo video, and for a more detailed overview, watch Cohesity's recent presentation at Storage Field Day 9.