Reading Time:
4
minutes
Rubrik is a startup that reinvent the backup approach with the idea to eliminate backup software by integrating data protection, instant recovery, and DevOps infrastructure into a single scale-out and converged product!
In the last years they grow really fast from the 4 employees in 2014 to the more than 125 at the beginning of 2016! And from version 1.0 of their product in mid 2015 to the release of Rubrik Converged Data Management 2.0 on August 2015.
Now they are releasing the new 2.2 version with several new features and improvements:
It's more easy to set protection policies on nearly any vSphere object: on a vCenter, Data Center, Cluster, Folder, Host, and more.
SLA Inheritance Options: any new object or workload created will automatically pick up parent SLA assignment (SLA is the policy way to manage data protection).
Recurring First Full Snapshot Windo: ability to control when (and if) full backups are taken within an SLA Policy.
New Retention Periods: increased the flexibility of retention values for an SLA Policy to meet new customer requirements.
Blackout Windows: ability to set periods where no operational tasks should be executed by the cluster.
Proxy Connection Support: for telemetry, logging data and remote support.
NAT Support for Public Replication Traffic: increased choice for sites without use of site-to-site tunneling.
For sure it's an interesting product for VM data protection, actually for VMware environments. Rubrik utilizes vSphere APIs for Data Protection (VADP) to create a snapshot of the VM disk file and Changed Block Tracking (CBT) to query only changed blocks, minimizing the cost of ingest. Designed as a distributed architecture, Rubrik linearly scales throughput performance and parallel processes ingest streams as more nodes are added to the cluster. Rubrik also utilizes flash to rapidly ingest data to minimize any impact to production
workloads.
It can also handle application level consistency:

An application-consistent snapshot not only captures all of the VM's data at the same time, but also waits for the VM to flush I/O operations and transactions in process (unlike a crash-consistent snapshot). To backup transactional applications installed on a Windows server (SQL, Exchange, Oracle), Rubrik utilizes Microsoft's native Windows service VSS. While VMware offers VSS support, Rubrik introduces its own native VSS Provider via VMware Tools to create and manage snapshots of VM disk files.
Maybe the recovery aspect are not completely integrated in the product: object-level search and recovery are powered by Kroll Ontrack PowerControls, so is something included, but not integrated with the Rubrik interface.
Also note that Rubrik can manage SQL Server or Linux environments along side virtual machines in the same UI. Supporting part of the physical and maybe other hypervisor (and cloud) platform, can make this product more complete.
They are also introducing a new product: the r528 Hybrid Cloud Appliance. The hardware is still a 2U appliance "brik" with 2 hardware nodes per appliance and 6 HDDs and 1 SSD per node.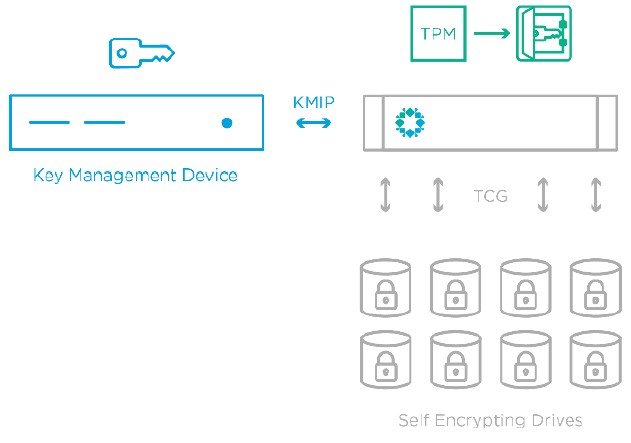 The main difference compared to others r3xx series is the comprehensive Encryption using FIPS 140-2 Level 2 Self Encrypting Drives. Also with an encryption at rest and in flight for all of your data, performance remains reliable, because hardware SEDs secure your data without compromising speed.
Of course, you need a Key Management Device, that can be flexible: Rubrik supports KMIP 1.0 Compliant Key Management Solutions (KMS). Customers can use and existing KMS set up for a variety of applications, otherwise Rubrik provides a trusted platform module.