Reading Time:
2
minutes
VMware has recently released the new verion of vRealize Network Insight (vRNI) 3.6 that adds key capabilities that enhance network and security visibility in customers' SDDC and AWS environments, and that enable customers to confidently deploy, manage and scale their VMware NSX deployments.
VMware vRealize Network Insight delivers intelligent operations for software-defined networking and security and helps customers build an optimized, highly-available and secure network infrastructure across multi-cloud environments. Also it can accelerates micro-segmentation planning and deployment, enables visibility across virtual and physical networks and provides operational views to manage and scale VMware NSX deployments.
Some improvements of version 3.6:
Enhanced Visibility:

Netflow from physical devices can now be added for planning security and troubleshooting of applications that include bare metal servers. Additionally, customers looking to assess their SDDC security posture but do not have virtual Distributed Switch (vDS) can use Netflow from physical devices in the free Virtual Network Assessment.
Government customers using AWS GovCloud can now use vRealize Network Insight for security planning and troubleshooting in their AWS environment.
Added support for Palo Alto Panorama 8 and additional Arista and Juniper switches enhances visibility across the virtual and physical SDDC infrastructure.

Rapid Troubleshooting:

Flow analytics such as top talkers and net new activities in the last 24 hours help rapidly troubleshoot network issues.
New AWS Security Group widget provides quick troubleshooting of the security posture within AWS infrastructure.
Support for NSX-T security groups and firewall rules
Open Platform: vRealize Network Insight 3.6 provides public API to integrate data from vRealize Network Insight and drive automated workflows. For example, the recommended firewall rules for an application can be accessed using vRealize Network Insight and programmed into NSX or AWS firewalls.
There are two different editions of vRealize Network Insight: Advanced and Enterprise.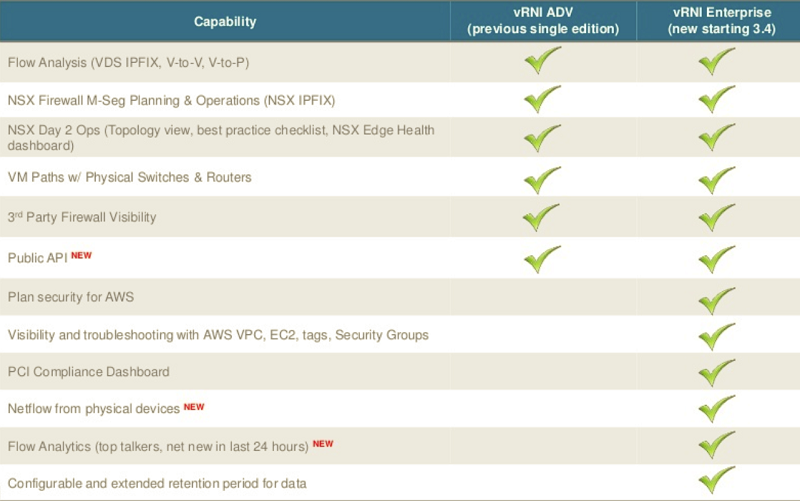 In addition to the Software Defined Data Center on premise download, VMware vRealize Network Insight is also available now as a subscription service for customers who prefer the SaaS consumption model.
For more information: