This post is also available in: Italian
Reading Time:
3
minutes
Tintri has an interesting VM-aware All-Flash storage platform for virtualization and cloud environments. There are both All-Flash and Hybrid-Flash products, but the most interesting aspects are the VM-aware capability, the analytics data, and the scaling model.
The arrays are similar to other two-controllers arrays, with a scale-up (or scale-in) model. But some years ago Tintri unveils its scale-out storage model where was possible grow your storage base in a simple way.
In May 2016, the company announced their VM Scale-out technology: when a customer adds a Tintri system to their footprint, it is treated as a single, federated pool. Tintri automatically optimizes the placement of every individual virtual machine across the newly expanded footprint. A different approach compared with the traditional storage scale-out, where you can have also data redundancy across multiple storage arrays, but it's anyway an interesting way to move out from the scale-up limit. And potentially, in the future, could also possible transform the VM Scale-out technology into a fully scale-out model.
Now Tintri complements its approach to scale-out with a new technology: FlexDrive, a storage expansion feature that enables customers of Tintri all-flash storage arrays to increase system capacity to meet a specific storage need, by adding as little as one drive at a time.
Nothing totally new, considering that most of the Software Defined Storage permit this flexibility (also using commodity drivers), but it's not so common on the appliance based storage; for this reason, it's a good sign!
Tintri's approach to expansion is distinguished by its granularity. Since Tintri operates at the VM-level and eliminates the need for traditional storage constructs such as RAID groups and shelves, customers can purchase a partially populated EC6000 all-flash array and:
Add capacity in increments as little as one drive—inserting the drive(s) into any available disk slot
Click a single "expand" button in the Tintri interface
Gain immediate access to new capacity and deploy virtual machines without any further configuration
But it's also possible plan the expansion before with the new interesting expansion estimator feature: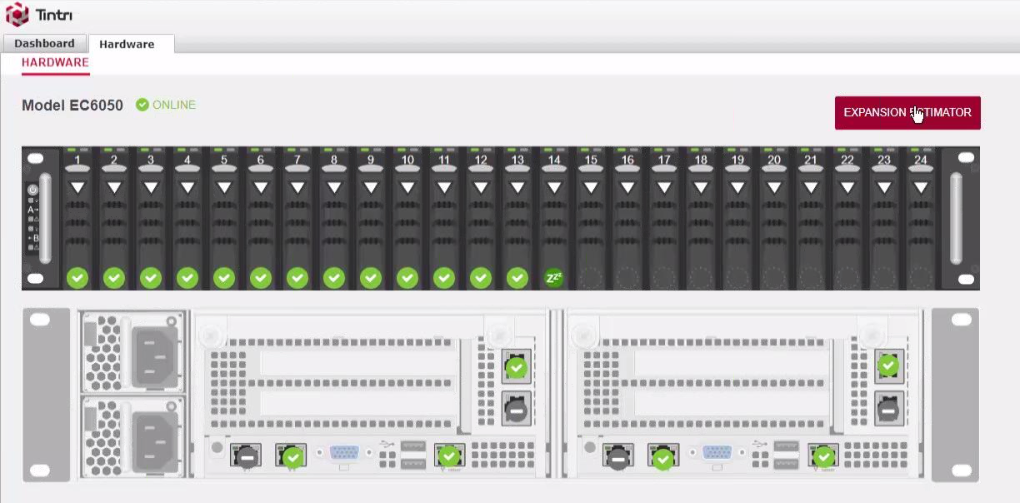 You can use a slider to define new number of disks and how expansion can increase the the desired space.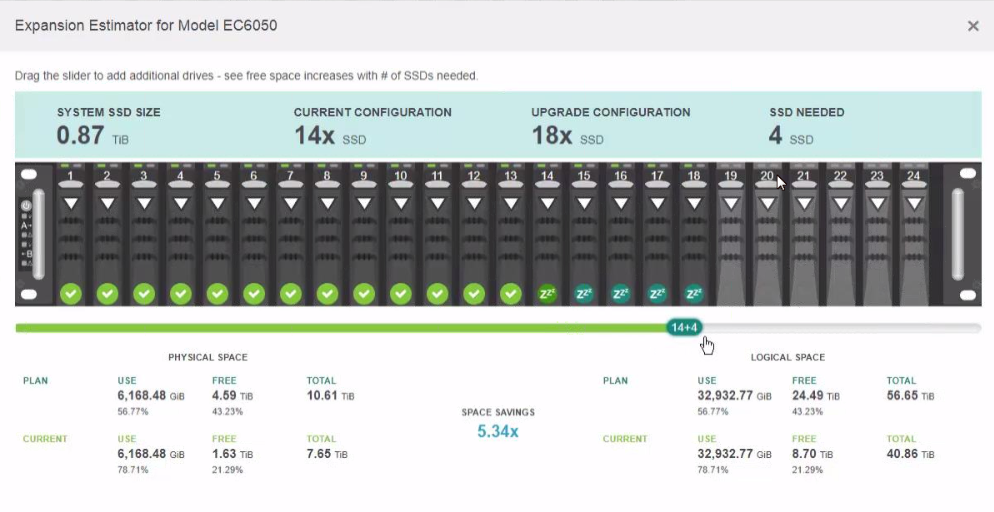 Tintri FlexDrive software for EC6000 systems will be included at no charge to customers with current support contracts via the Tintri OS 4.4.1 release available later this month.
The Tintri EC6000 All-Flash Series delivers powerful and efficient all-flash performance for up to 7,500 virtualized or cloud applications in just two rack units. Flexible expansion options give you the power to balance performance and capacity. The unique Tintri storage file system, built specifically for virtualized and cloud workloads, is powered by the Tintri CONNECT architecture. With the EC6000, you can start with a 19 TB all-flash system and grow to over 40 PB of all-flash storage supporting over 480,000 applications all managed by a single console.
Related Posts
Tintri unveils its scale-out storage model

Tintri Inc. has announced a new scale-out storage platform to enable enterprises and cloud service providers (CSPs) to build their own Amazon-like cloud infrastructure for diverse virtualized workloads. The new platform forms the foundation for the industry's largest all-flash scale-out, with support for up to 160,000…

Tintri announces their new VM-aware All-Flash storage platform

Tintri, a producer of VM-aware storage (VAS) for virtualization and cloud environments, has announced the release of the Tintri VMstoreTM T5000 All-Flash series. The VMstore T5000 joins the T800 Hybrid-Flash series to create a portfolio of VM-aware storage platforms that offer enterprises and service providers…

Nuova opzione di scalabilità per gli storage Tintri

Tintri è uno storage vendor ancora poco conosciuto in Italia, ma con molte interessanti funzionalità. La loro VM-aware All-Flash storage platform è nata per ambienti di virtualizzazione e cloud (in Italia è utilizzata da un importante cloud provider). I prodotti sono sia di tipo All-Flash che Hybrid-Flash, ma le vere…