This post is also available in: Italian
Reading Time:
4
minutes
On May 2017, Dell EMC announced the next generation of PowerEdge servers: the new 14th generation, the first with the new Dell-EMC logo.
After less than 3 years from the introduction of Generation 13 of PowerEdge series, the newly designed 14th generation of the Dell EMC PowerEdge server portfolio forms a secure, scalable compute platform that is the ideal foundation for cloud, analytics or software-defined data center initiatives.
Of course, the new series was not complete with all models at the launch and has been shapen in the following months.
And on June 2017, were also announced some models with new AMD EPYC™ processor, after some generations of PowerEdge with only Xeon CPU.
AMD EPYC is a CPU designed for the datacenter with up to 32 cores, 64 threads (yes, hyper-threading also on AMD), 8 memory channels with 16 DIMM per socket for up to 2 TB of memory per socket, and 128 PCIe-3 lanes. With one single socket (that can compete with most of other 2-sockets platforms) or two-sockets choices.
More interesting is the System on chip (SoC) architecture where CPU, memory, I/O, Server Controller Hub, and security are implemented in one package, with no need for external chipset!
Now the new Dell-EMC PowerEdge servers based on AMD EPYC are available!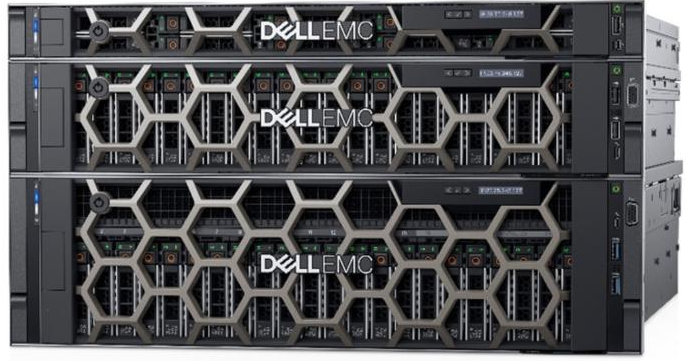 Dell EMC is expanding its PowerEdge portfolio of servers with the PowerEdge R6415, PowerEdge R7415 and PowerEdge R7425. These three new PowerEdge servers, built with AMD EPYC™ processors, broaden our customers' options in managing their IT transformation efforts effectively.
As usual, the last digit il 5 to identify AMD processors (0 for Intel), but it's interesting is the definition on a new naming convention of PowerEdge, where seems that "15" identify AMD with 1 socket and 25 AMD with 2-sockets.
Each PowerEdge server platform has been engineered and optimized to meet the complex computational and storage demands of the emerging and disruptive workloads such as:
EDGE Computing Workloads – require server platforms that can not only handle the massive amounts of data created at the edge but have the performance density to manage these computations. The PowerEdge R6415 is a highly configurable, 1U single-socket server with up to 32 cores that offers the ultra-dense, scale-out computing capabilities needed for EDGE. With a support for up to 10 PCIe NVMe drives, the R6415 provides critical storage flexibility required for these workloads.
Software Defined Storage (SDS) Workloads – have to manage exploding rates of data efficiently, securely and seamlessly across pooled resources. The PowerEdge R7415 is a 2U, single-socket with 128 PCIe lanes provides the bandwidth necessary for virtualization and supporting up to 24 NVMe drives for extreme storage requirements. The R7415 is the first AMD EPYC-based server platform certified as VMware vSAN Ready Node and offers up to 20% better TCO per four-node cluster for vSAN deployments at the edge.
High-Performance Computing (HPC) Workloads – require server platforms not only with high performance but also the large bandwidth to move the results of the computations appropriately. The PowerEdge R7425 is a 2U, dual-socket has up to 64 cores and supports up to 4TB to provide the kind of accelerated computing that HPC workloads demand. It has been shown that the R7425 can deliver up to 25% superior performance for HPC workloads such as Computational Fluid Dynamics (CFD)
Will be interesting see it AMD solutions can grow (again, like in the past) inside the datacenter, considering also that you cannot mix AMD and Intel servers inside a virtualization cluster (to permit the VM migration across the hosts). So if somebody has already invested in Xeon based servers, probably he will (or he must) buy again Xeon CPU.
But for new projects or new infrastructure, those new options can be interesting to permit more choices and benchmarks seems promising.
Those nodes are also VMware vSAN certified and there are also some vSAN Ready Node configuration.
Dell PowerEdge servers "R6415", "R7415" and "R7425" based on AMD EPYC processors are the first one which are now certified and listed in vSAN HCL.
Note: also AMD EPYC CPUs are affected by speculative execution issues, but only by Spectre variant (GPZ Variant 2 – Branch Target Injection), although they believe that AMD's processor architectures make it difficult to exploit this kind of variant.