This post is also available in: Italian
Reading Time:
4
minutes
Altaro is a fast-growing software company with easy to use and affordable (also for the price) backup solutions for small- to medium-sized businesses, specializing in backup for virtualized environments.
After a beta period, with several different build, they have now officially released the new version 7.6.4.
Altaro support both Microsoft Hyper-V and VMware vSphere environments and it's totally policy driven, making easy to manage the information and configuration.
When you have added a virtual infrastructure you can simple navige it:

But usually, for each feature, you can simple configure the related policies and define at which VM should be applied and how.
For example one news of this version is the Continuous Data Protection (CDP) function, where users can switch from running daily backups to a continuous data protection model yielding an improved Recovery Point Objective (RPO) of up to 5 minutes. It's not a real CDP, but it's a data protection with lower RPO and could be totally set with the related policy: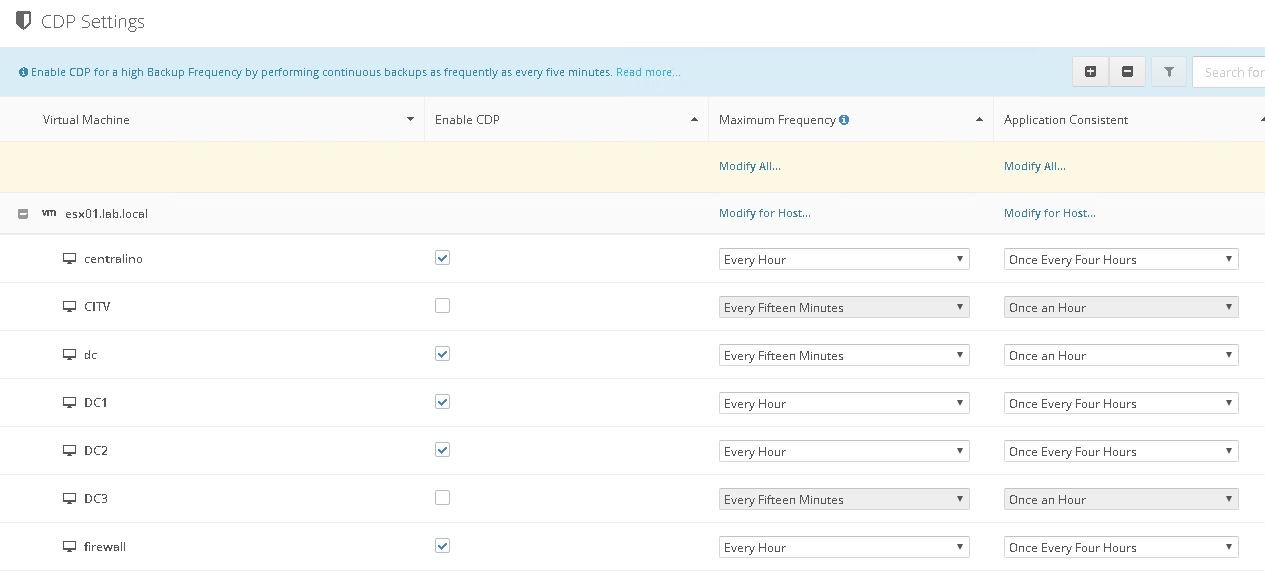 When CDP is enabled, VMs can be backed up as frequently as every 5 minutes. This ensures that, should a data loss scenario occur, only a few minutes of data are lost. Note that VM backup it's still performed with hypervisor snapshots!

Note: CDP is only available to customers with an active renewal (SMA) who have the "Unlimited Plus" edition of Altaro VM Backup. It is currently available for Hyper-V; and will soon be available for VMware.
Another new feature is the Grandfather-Father-Son Archiving (GFS) for Local Backups where users can choose to archive local backup versions in addition to their continuous and daily backups instead of deleting them. It's a way to manage different retention, by having a primary retention and a GFS retention.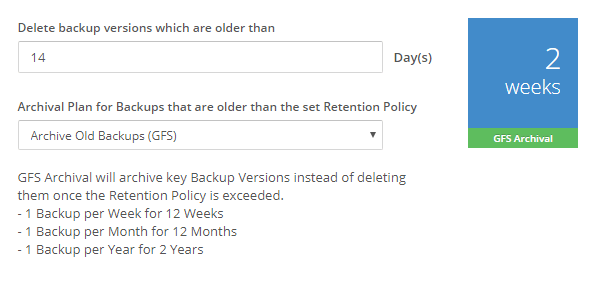 With GFS Archiving enabled, Altaro VM Backup also keeps the following backups, with the time periods shown all starting from the time of the last successful backup:
1 backup per week for 12 weeks
1 backup per month for 12 months
1 backup per year for 2 years
Note: GFS is available for all customers on Unlimited and Unlimited Plus Editions of Altaro VM Backup.
In previous Altaro VM Backup Versions only one operation could be performed on a Virtual Machine at the same time. This caused the following pain points for our users:
If a retention policy takes hours to complete then backups and restore operations are queued until retention is complete
If an Offsite Copy to Azure takes days to complete then backups and restore operations are queued until retention is complete
If a Restore, File Level Restore or Boot from Backup operation is active then no backups for that Virtual Machine could take place until they are completed.
Each of these limitations have been addressed in v7.6 , allowing users to restore and take Offsite Copies without delaying any scheduled or CDP backups whether scheduled or CDP.
For Hyper-V users, the new version add CBT v2 for Windows Server 2012 and 2012 R2. CBT refers to Change Block Tracking and allows users to take fast incremental backups without having to scan the entire virtual machine (VM) for changes each time. This can reduce backup duration down from hours to minutes. When CBT is not available, a lengthy full scan for changes is required.
This release addresses an issue in Altaro VM Backup 7 CBT for Windows Server 2012 and 2012 R2 where CBT is disabled and a full scan for changes is required in the following scenarios:
Altaro VM Backup or one of the Hyper-V Host agents is updated
Altaro VM Backup services or one of the Hyper-V Host agents is restarted
A Hyper-V Host is restarted
A Virtual Machine on a Failover Cluster migrates between nodes.
Altaro VM Backup 7.6 addresses this and the above scenarios do not require that a full scan is taken.
See also: