This post is also available in: Italian
Reading Time:
5
minutes
Most people probably already know the terms Converged infrastructures (CI) and HyperConverged Infrastructures (HCI) that are both become quite common in the IT world, with several products and solutions that aim to be fit in those classifications. HCI has become a hot topic with several vendors that aim to be a leader in this area, or with several "magic quadrants" that try to define who is in.
But like happens with the Software Defined Something (especially the Software Defined Software) it's not always easy to determine what really can fit in a classification and what not. For example, most of the storage solutions are software based, but this is not enough to define all of them SDS solutions.
One very interesting discussion came from the last Tech Field Day 16, with NetApp presentation by Adam Carter, Chief Architect at NetApp.
The entire presentation was focused on (trying) to provide an answer to the question: What's really define an HCI solution?
HCI itselft does not mean nothing, or can mean a lot of thinks (for example also Human-Computer Interaction). From Wikipedia we can found the followin definition:
In 2012 Steve Chambers and Forrester Research coined the marketing term hyper-converged infrastructure (HCI) to describe a fully software-defined IT infrastructure that virtualizes all of the elements of conventional "hardware-defined" systems. HCI includes, at a minimum, virtualized computing (a hypervisor), a virtualised SAN (software-defined storage) and virtualized networking (software-defined networking). HCI typically runs on industry-standard commercial off-the-shelf (COTS) servers.
But the definition itself is constantly evolving, because new solutions can innovate and expand the definition, at least from how was built at the beginning.
Also could be interesting note that one of main player in this area, an probably the first, does not use this term at all, or has not used from the beginning: Nutanix prefer the term "web-scale" instead of the marketing term "HCI".
But we can look from different point of view. Let's start on what matters in an HCI solution:
it should be easy to buy: one (or few) SKU with all (or almost) features included
it should be easy to setup and configuring: with few clicks or in any other simple way
it must simplify the management and provide much flexibility
it must be more "deterministic" in planning and scaling
it should enable to a cloud model, in scaling, in elasticity, in consuming, in economics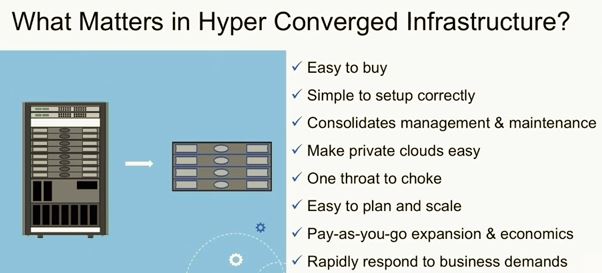 Now let's consider some possible diffent way to achieve an HCI solution:
use an hypervisor and a storage VM for each host
use an hypervisor that include also the storage feature and capability
use a different approach: in this case the NetApp approach used in SolidFire
The first two are probably clear and easy to understand.
Having a VM that act as the "Storage Processor" is how the HCI journey has start: Nutanix and Simplivity are good example of this approach.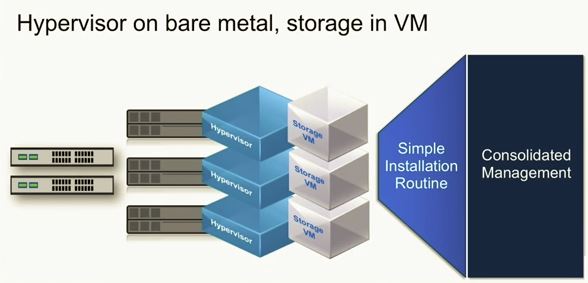 But the interesting debate from this sessions was that have a virtual machine that act as a "storage controller" it's not enough to define the solution an HCI solution. At least a simplified installation procedure is needed (possible automated) and a good management layer is also needed. And maybe it's still not enough, because if we try to match the solution with the function requirements of an HCI solution maybe does not match.
The second approach is combine the storage part in the hypervisor level (or in the kernel level) as VMware has done with Virtual SAN. But other example are also Microsoft S2D or Scale Computing.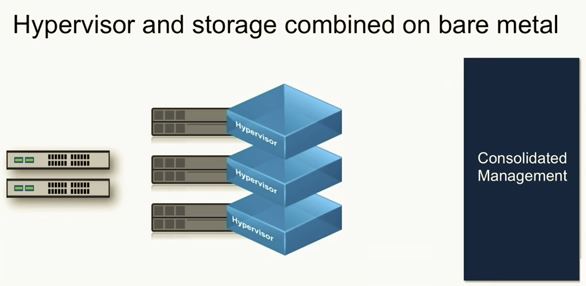 Again, it's not the technical solution itself, but it's the grade of automation,simplicity, scalability, … that can define the solution an HCI solution. And in this case there are more examples, like the VxRail that it's based on VMware VSAN but set a new level in the HCI with a more simple, predictable, manageble solution. To make another example jsut consider the different implementation paths and effort required for a VSAN "build your own" node, a VSAN Ready node and a solution like VxRail.
But the most interesting part of the discussion is that HCI could be not limited at the previous two approaches: if we accept that HCI require more than just combining storage and compute, than we can explore different ways to achieve the requirements.
An interesting approach (used by NetApp SolidFire) is to have independend hypervisor and storage nodes, but still provide all the functional requirement of an HCI.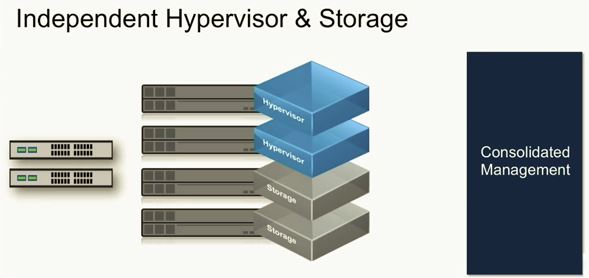 It's still HCI? Probably we can argue about this, but for sure it's an emergent trend with some interesting benefits. Maybe it's just the time to stop using a marketing term like HCI and more focusing on the value of a solution instead of its possible definition.
The following diagram try to give some pro and cons of each solutions: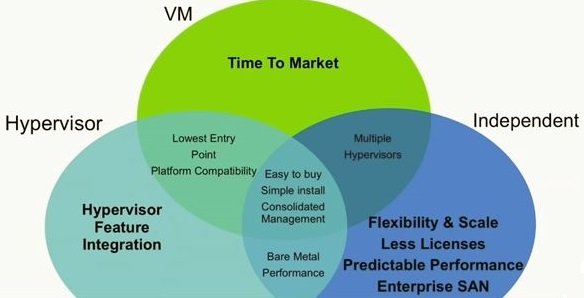 Watch the entire video to learn more:
See also: