Reading Time:
3
minutes
Virtual Instruments has announced the availability of integrations with Cisco SAN Telemetry Streaming and AppDynamics' application intelligence platform with VirtualWisdom 5.6, the latest version of one of the industry's most comprehensive infrastructure performance monitoring and analytics platforms.
In October 2017, Virtual Instruments has announced an innovative technology integration with Cisco to dramatically simplify and lower the cost of real-time performance and availability monitoring for business-critical infrastructures. Now available, the integration of Cisco SAN Telemetry Streaming with VirtualWisdom eliminates the requirement to deploy physical network TAPs and probes.
The new capabilities allow VirtualWisdom and AppDynamics to share a common view of the infrastructure consumed by business applications, enabling a collective understanding of application topology. The integration between VirtualWisdom and the SAN Telemetry Streaming facilities of Cisco's MDS 9700 32G Module, along with the entire Cisco MDS 32GB portfolio, enables holistic visibility into Fibre Channel SAN Fabrics. Together, the Virtual Instruments and Cisco integrations help ensure the highest availability and performance of business-critical applications.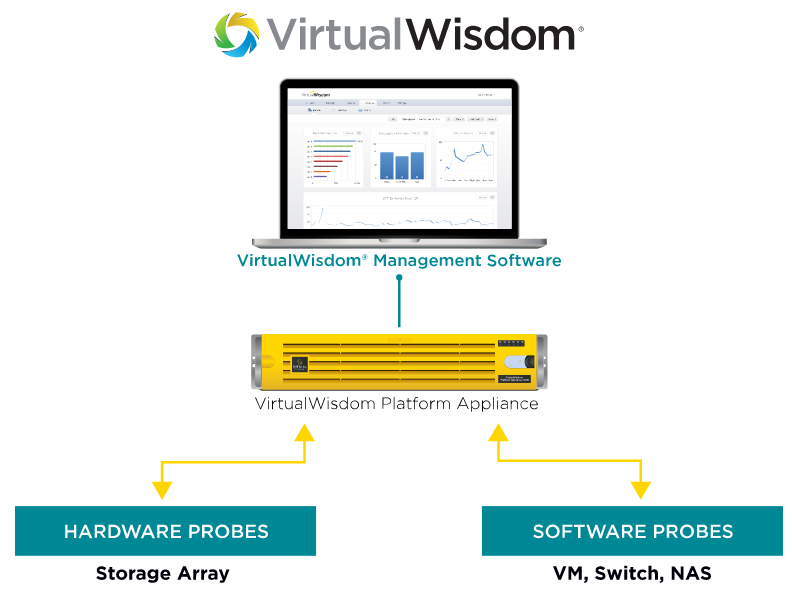 Virtual Instruments is a company focused in Infrastructure Performance Management (IPM) for physical, virtual, and cloud computing environments. Their VirtualWisdom platform provides end-to-end visibility into real-time performance, health and utilization metrics from the entire systems stack and drives improved performance and availability while lowering the total cost of the infrastructure supporting mission-critical applications. Also it can be used to select the right storage technologies for each environments, optimise configurations and reduce overprovisioning, mitigate deployment risks, ensure adherence to production SLAs, move from reactive to fast, proactive troubleshooting and identify and eliminate bottlenecks to increase application performance.
VirtualWisdom 5.6 delivers on the first phase of integration with AppDynamics by discovering applications from the AppDynamics controller and providing visibility into the application through the SAN fabric down to the storage LUN. This enables shared context and understanding of how the infrastructure supports application SLAs, resulting in accelerated problem resolution. VirtualWisdom can also detect applications using ServiceNow, SSH/WMI, and through the analysis of NetFlow from physical routers/switches and the VMware vSphere Distributed Switch.
VirtualWisdom 5.6 offers algorithmically-driven automated correlation services that replace traditional, manual methods of remediation. When an alert occurs, a case is automatically opened that starts an investigation, which automatically generates the charts necessary to solve problems and then recommends an analytic to guide the user through actual remediation procedures. Unlike other tools, VirtualWisdom goes beyond identifying a problem and offers guidance to accelerate resolution.
"Virtual Instruments and Cisco working together so closely is having a dramatic impact on our infrastructure deployment and performance monitoring strategies. The new VirtualWisdom/Cisco integration enables us to holistically assess the impact of shared infrastructure on application performance," said Carla Lambrecht, assistant vice president at Enterprise Holdings, Inc. "We view this integration as being fundamental to our application performance and availability goals."
Virtual Instruments will demonstrate the VirtualWisdom/Cisco integrated solution at Dell Technologies World, taking place April 30-May 3 at The Venetian in Las Vegas. The demonstrations will highlight a new level of infrastructure performance insight featuring Cisco SAN Telemetry Streaming and AppDynamics integration. On the show floor, we will demonstrate the extreme value of app-centric visibility to support all applications and infrastructure, including extended storage infrastructure performance visibility across enterprise-grade Dell EMC VxRACK and ScaleIO.
To learn more about Virtual Instruments' VirtualWisdom platform, please visit: http://www.virtualinstruments.com/virtual-wisdom/