Reading Time:
2
minutes
VM Explorer is another backup (and replication) tool with native support for virtualized platforms (vSphere and Hyper-V) with a good success in the SMB segment.
Initially was build by a Swiss company (Trilead), acquired later by HP(E) and recently acquired by Microfocus. Lot of changes in the name, but not in the substance and with a good development and release cycles.
Now Microfocus has released a new VM Explorer release (v7.1) compatible with the latest version of VMware vSphere 6.7.
What makes this product interesting is that it was one of the few (at the beginning the only one) supporting the free version of ESXi (the free hyperisor). Of course in this case, VADP was not usable and several features was limited, but a nice option.
And was really simple to install and use with a clean UI that has changed a lot from those years: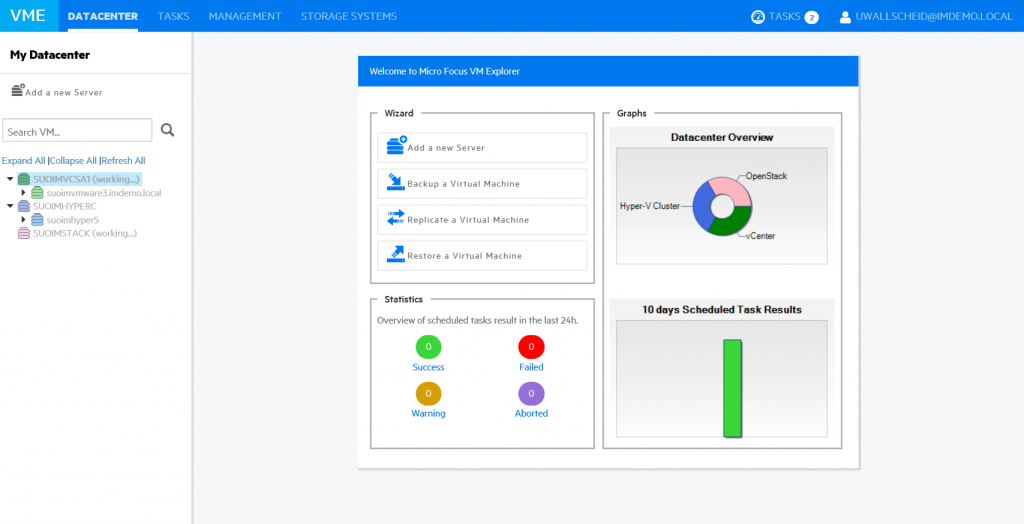 The features have also grow in those years.
Backup and then also replication for ESXi standalone servers, vCenter virtual datacenter, Microsoft Hyper-V server as well as a Hyper-V Cluster on all operating systems supported by VMware ESX/ESXi and Microsoft Hyper-V server. Securely back up and replicate VMs directly to cloud targets including Amazon S3, Microsoft Azure, Rackspace, and OpenStack without any intermediary gateway. Automated storage tiering enables seamless movement of backup sets between disk, tape, and cloud.
There are different editions of VM Explorer:
Trial – Try VM Explorer for free for 15 days, with all features included. After the trial it will switch to the free edition with several limitation.
Professional – VMware and Hyper-V backup and replication with support for local disk, tape and cloud targets.
Enterprise – Enhanced backups with support for StoreOnce catalyst, StoreVirtual, encryption, Instant VM Recovery, Backup Navigator support.
Price is quite interesting for SMB, for example for the Professional edition you pay $699 and it includes 4 x CPU sockets. For more details in pricing see
this page
.
Very interesting see how many backup solutions exist for the SMB with quite interesting pricing and features that are going more and more closer with some enterprise products.
The product could be download from this page.