Reading Time:
4
minutes
We have already talked about the VMware Cloud Provider Platform, but what about its Cloud Management Platform for the customers (and not the providers)?
Also this year the VMware's vision remains to provide the best way to run any application on any cloud and access from any device: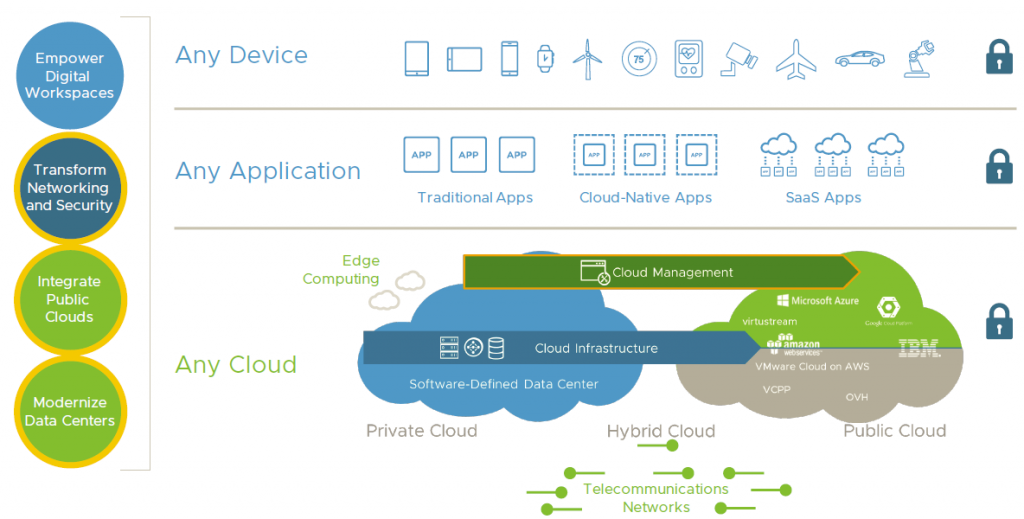 The VMware Cloud Management Platform is the way to achieve this, not only for VM based infrastructure but also for container-based applications. The Cloud Management is the control plane for the Software-Defined Data Center (SDDC) and the Hybrid Cloud and, of course, is one strategical aspect for both pillars.

If vSphere 6.7 Update 1, vSAN 6.7 Update 1 and NSX are the core part of the SDDC (as also the Cloud Foundation Platform) what other products compose the VMware Cloud Management Platform?
According to this table, there are some products for the on-premises part and some available as a service:
Use Cases
On-premises solutions
SaaS solutions
Application Operations
• vRealize Code Stream 2.4.1
• Code Stream
• Wavefront by VMware
Programmable Provisioning
• vRealize Automation 7.5
• VMware Integrated OpenStack 5.0
• vRealize Business for Cloud 7.5
• vRealize Lifecycle Manager 2.0
• Cloud Assembly
• Service Broker
Self-Driving Operations
• vRealize Operations 7.0
• vRealize Log Insight 4.7
• vRealize Network Insight 3.9
• Log Intelligence
• Network Insight
• Cost Insight
The new products announced at VMworld US 2018 are:
vRealize Operations 7.0 – Improved to run production operations hands-off and hassle-free with

Continuous Performance Optimization – Assure application performance based on business and operational intent
Efficient Capacity Management – Run infrastructures like AWS – optimal densification, proactive planning, and procurement
Intelligent Remediation – Predict, prevent and troubleshoot across SDDC and multiple clouds

vRealize Log Insight 4.7 – This product will define the end of the "free" version of vRealize Log Insight included in the vCenter license
vRealize Network Insight 3.9 – With the intent to become the tool that provides visibility across the virtual cloud network

Plan Micro-segmentation: View flows between segments, map application dependencies and troubleshoot
flows blocked by the NSX-T firewall
Visibility Across Virtual & Physical: Troubleshoot VM to VM path across NSX-T overlay and physical underlay
Manage & Troubleshoot NSX-T: Search, visualization, and troubleshooting for NSX-T elements including security groups
What really seems a new product at all is the new version vRealize Operation. Starting from is Quick Start page: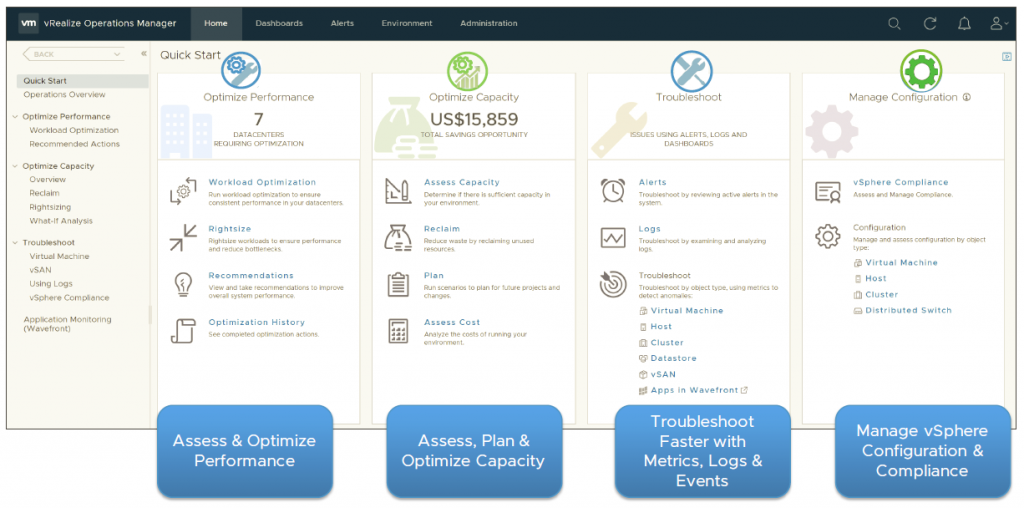 Much more business oriented and no more only a "monitoring" tool where in most cases the vCenter Server could provide enough information.
Now it provides unique capabilities like better assess, plan & optimizes capacity features, including a new What-if Project Planning that can help to model hardware purchases to meet future demands with full CapEx visibility or also in public cloud migration planning for VMware Cloud on AWS and native AWS.
But also a new modern "DRS" system to provide automated host based placement, also across clusters, and driven by business intent, where you can create new placement zones across hosts regardless of the cluster boundary License Enforcement, Compliance, Tiering.